It's free-from week in the baking tent, which means we've had we've had cakes without sugar, bread without gluten, ice cream without dairy, and bakers without a clue!
But before we welcome any gluten goodness back into our lives once again, it's only fair to give you guys at home the chance to try 'a pitta' something new!
We want to see your finest, or most disastrous, attempts at gluten-free pitta, but unlike the bakers, you won't be free-from a full recipe to help you out! Simply read the recipe below, bake up a treat, take a photo and upload it right here to join in with the ultimate Bake Off bake along!
Think you're up to the challenge, or will you find yourself in a pitta despair? There's only one way to stop these stale puns – BAKE!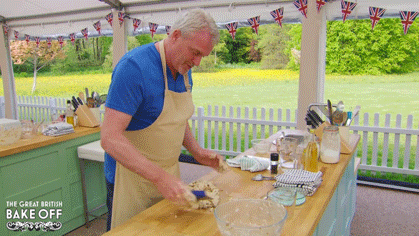 Makes 12
30g psyllium powder
600ml water
750g Doves Farm gluten-free strong bread flour blend
3 tbsp nigella seeds
15g sugar
1 tbsp salt
21g instant yeast
3 large eggs
1 tbsp white wine vinegar
90ml tbsp olive oil
1.  Mix the psyllium powder with 300ml of water. Leave to one side and allow the mixture to thicken.
2.  Tip the flour and nigella seeds into a mixing bowl. Add the sugar and salt to one side of the bowl and the yeast to the other.  Crack the egg into the centre of the flour, add the vinegar, olive oil and the psyllium mixture.  Combine the ingredients to form a soft dough.  Gradually add the remaining 300ml water.  You may you may not need it all, although the dough should be soft and slightly sticky.
3.  Place onto a floured surface and knead to form a smooth dough. Place back in the bowl, cover and leave to rest for 1 ½  hours until doubled in size.
4.  Heat the oven to 220C/fan 200C/gas 9 and place 3 heavy duty baking trays in the oven to heat up.
5. Dust your work surface with flour. Divide the dough into twelve equal pieces and shape each one into a ball. Roll or press the pieces into oval shapes about 4mm thick.
6.  Remove the baking tray from the oven and dust with a little flour. Lay four pittas on each tray and bake for 10 -12 minutes until puffed up and cooked through. The pittas should have a slight colour to them. Remove from the oven and wrap in a clean tea towel, this helps keeps them soft.
7. Take a photo and share your bake with the nation. Join the bake along!
8. Serve immediately.