Batter the pancake you know! Or batter anything that resembles a delicate heart and hope you've met Paul's 'lacy' specification. Think you're up to the lacy pancake challenge? Feast your eyes upon Paul's scrummy recipe…
Unlike our bakers, we promise to give you more guidance than 'make a pancake batter', and we won't be counting how many trial pancakes you make, honest. All we do ask for is a photo of your bake to treasure the Bake Off memory! Whether you're in love with your lacy design, or end up broken hearted, don't forget to upload a photo of your creation right here, so the whole world wide web can enjoy your tremendous technical effort! On your marks, get set…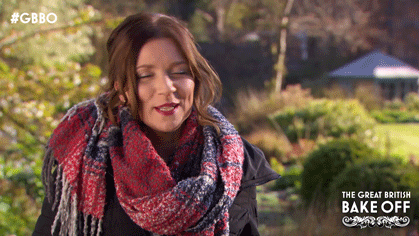 Makes 12
175g plain flour
1 large egg
1 large egg yolk
300ml milk
25g unsalted butter, melted
1 – Sift the flour into a bowl and make a well in the middle. Whisk together one egg, one egg yolk and a little milk taken from the 300ml, then pour into the well.
2 – Whisk gently, gradually whisking in half of the remaining milk, drawing in the rest of the flour a little at a time, to make a smooth batter.
3 – Stir in the remaining milk. Cover and leave to stand for about 15 minutes. Pour the batter into a plastic squeezy bottle.
4 – Heat a frying pan over a medium heat and brush with a little melted butter. Tilt the squeezy bottle and pour the batter into the pan, creating a freehand lace pattern.
5 – Cook the pancake over a medium-high heat for 45-60 seconds until small holes appear on the surface and the underside is lightly browned. Loosen the pancake and turn it over by flipping it with a palette knife or fish slice.
6 – Cook the other side for about 30 seconds until golden. Slide the pancake out of the pan.
7 – Heat and lightly grease the pan again before making the next pancake. Serve the pancakes as they are made, or stack them on a plate and reheat before serving. (If the pancakes are hot when you stack them they will not stick together; there is no need to interleave them with greaseproof paper.)