The Great British Bake Off is almost upon us, which means every Wednesday we're more than justified in dusting off the almost-forgotten gingham apron, eating as many cakes as possible and imagining that one sweet day in the not-so-distant future, we too might produce some top notch chocolate frosted cupcakes that even Debbie from accounts would struggle to compete with.
So in honour of Bake Off returning to our screens on August 24th, here's the 12 key things we've missed ever so much when Paul, Mary, Mel and Sue aren't making us feel all warm and fuzzy on a weekly basis…
1 – The elusive Hollywood Handshake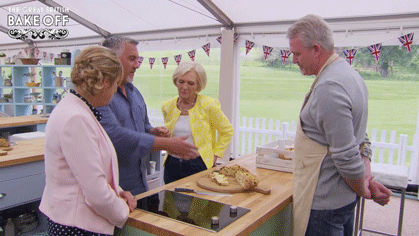 Almost as rare as the Paul Hollywood compliment on bread week. Enough to make both baker and TV viewer weak at the knees almost immediately.
2 – A cheeky wink from Mary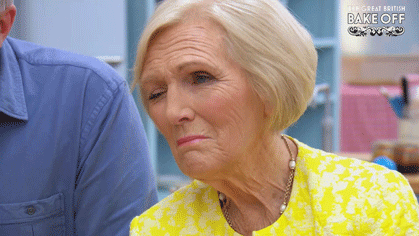 Because that's all anybody really needs on a weekday evening – a reassuring, 'you got this' wink from the great Mary Berry.
3 – The famous #BakeOffInnuendos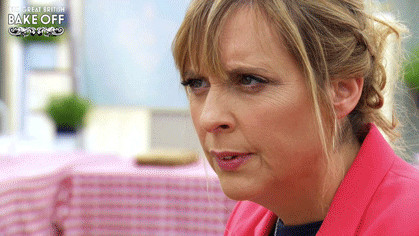 What's Bake Off without a hefty helping of soggy bottoms and misshapen (dough) balls? Filthy, the lot of you!
4 – The baking VICTORIES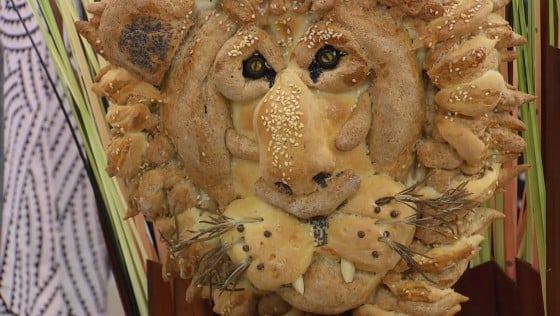 The brazen, the beautiful, the 'HOW DID THEY BAKE A LION OUT OF BREAD?!' creations we cherish, and talk about on group chat for a good few days afterwards.
5 – And the one's that didn't go so well…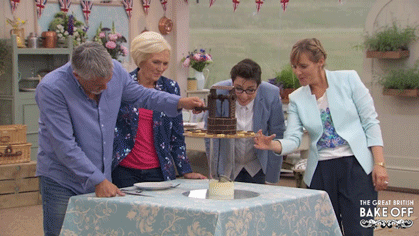 Bakers are just like us you know. YES, they might be able to bake 12 perfect chocolate eclairs in a moment's notice, but things don't always go to plan
6 – When even the rain doesn't get you down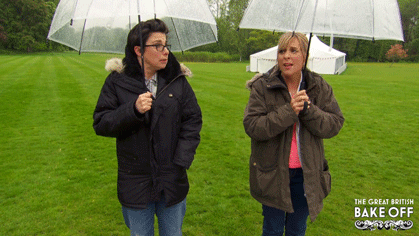 As much as we're all for basking in a day of sunshine, there's something quite magical about snuggling up with a cup of tea and watching Bake Off as the rain pours down outside. Just as long as you don't have to venture out afterwards because you forgot to buy milk.
7 – The awkwardly wonderful celebratory dances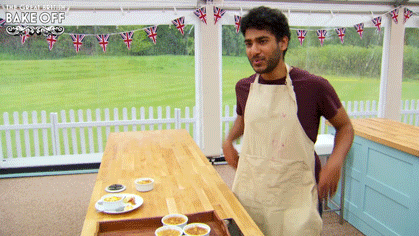 If only their moves were as smooth as their icing, then they'd be dangerous on the dancefloor.
8 – Mary Berry: Bake Off Style Icon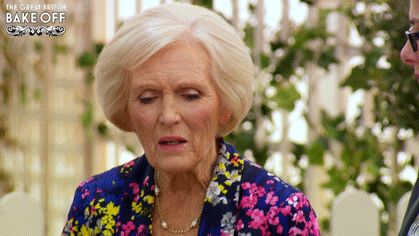 We like your blazer too Mary, we like it too.
9 – The weird and wonderful creations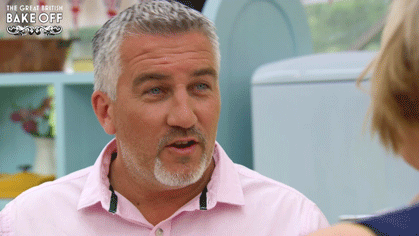 Every now and then, a few bakers go a little rogue and start adding some very daring ingredients to the mix. A recipe for disaster? Paul is likely to think so.
10 – Having an excuse to eat ALL THE CAKE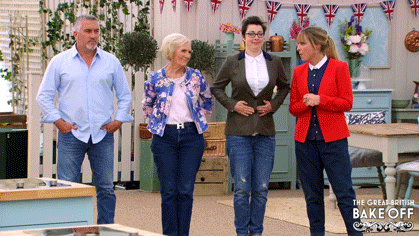 Quite frankly, it would be pretty ridiculous to watch the show without 'researching' the delicacies on display.
11 – Mary's excited face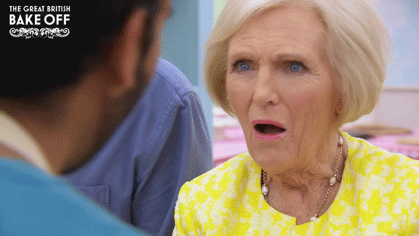 Second to the Mary Berry wink, we love it when Mary gets carried away about a doughy bicycle creation.
12 – Faces of frustration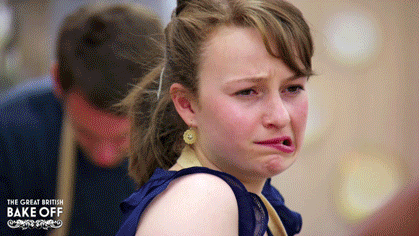 What would Bake Off be without a montage of seriously stressed, ridiculously worried and utterly confused faces each week?

The Great British Bake Off returns Wed Aug 24, BBC One at 8pm.