When it comes to raising money for Stand Up To Cancer UK, we're all in it together. Competition may be fierce in the tent at times, but fundraising really is a team sport, and there's no 'I' in Star Baker. Whether you cook up a perfect batch of Showstoppers or a less-than-technically perfect first attempt, more bakes mean more money in the bank to help fund life-saving research and fight cancer.
If you're planning your own Stand Up To Cancer Bake Off (get your free fundraising pack here), take some inspo from our final batch of celebrity bakers who took on the tent for Stand Up To Cancer.
Help first reared its head during the Signature challenge, when time crept up on comedian and actor Aisling Bea and her Irish-inspired muffins. Luckily, fellow comedian Alan Carr had time to spare and was able to step up to the plate, making his piping debut in an effort to get her muffins iced before Prue and Paul came to judge them.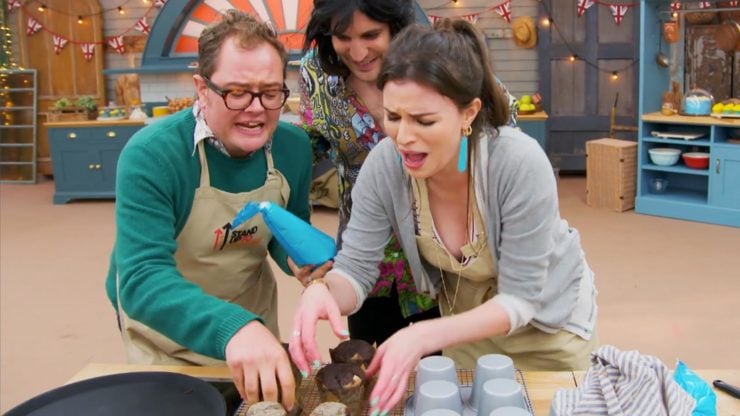 By the time the technical challenge came around, it was Alan's turn to ask for help from actress Teri Hatcher, who had already proved that this trip to the tent wasn't her first custard-pie-making rodeo. Custard may not have been Alan's strong point, but by the time Teri had stepped in to help, Alan's pie was looking eggcellent.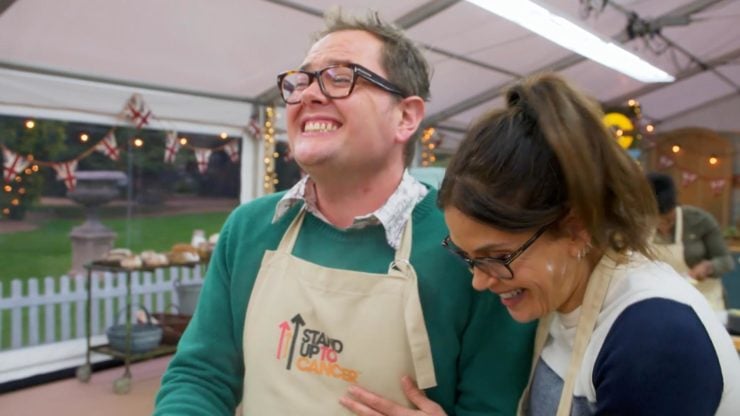 Alan's wasn't the only custard pie Teri had a hand in, as gold-medal winning athlete Kadeena Cox's multiple sclerosis flared up after some vigorous whisking. The result left her unable to pipe her whipped cream topping, so she enlisted the help of Teri to put the final flourish on the pie according to her careful instructions.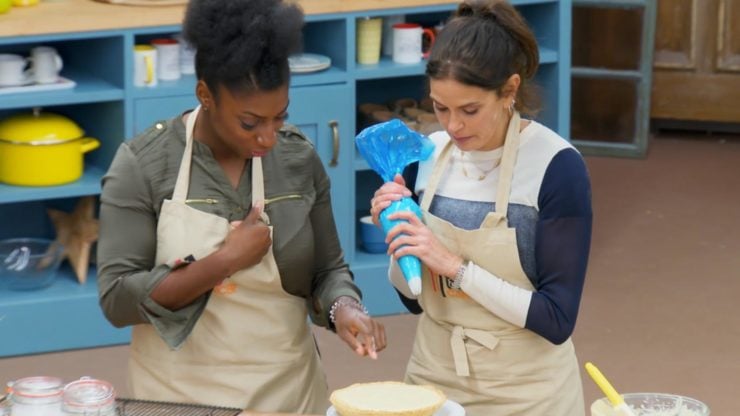 When it was time to tackle decorating their Showstoppers, Alan had lost the will to bake… or at least to form the entire cast of Rainbow characters out of sugar for his two-tiered cake. It was Noel Fielding who stepped up to the cake stand this time, putting his background as an art student into practice to sculpt George out of pink fondant.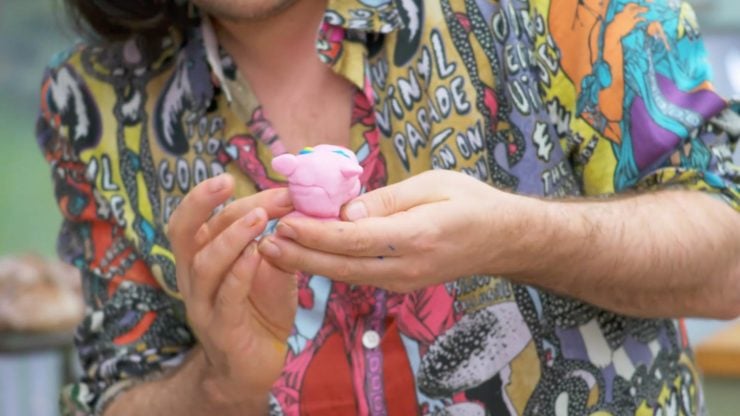 If we only learned one thing from episode five of The Great Celebrity Bake Off for Stand Up To Cancer, it's that bakers of all abilities can get pie with a little help from their friends. No bake is too good… or too 'rustic'… to help raise money for this great cause.
Get your fundraising pack and start baking here.
The Great Celebrity Bake Off for Stand Up To Cancer is a five-part series to raise funds for Cancer Research UK on behalf of Stand Up To Cancer. Catch a fresh batch of celebrities every Tuesday night from 6th March until 3rd April at 8pm on Channel 4.
Please donate generously to this wonderful cause at www.channel4.com/su2c.