The first ever Spice Week on The Great British Bake Off was ushered in by Noel yelling "Spice up your life!". He may have been a little over-excited about the amount of gingerbread he was about to consume. And as the bakers dived headfirst into their Signature Challenges, it was clear that they were no Wannabes, with Ginger Spice cakes that had Prue crying "Viva Forever!" with pleasure. Paul's advice for the technical was a little enigmatic: "Too much of something is bad enough, but too much of nothing is just as tough." Erm, righty-ho Paul…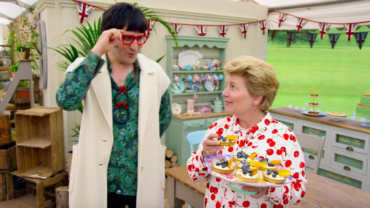 With Prue unwell during the Showstopper Challenge, Noel stepped up to the plate, donning his finest glasses and pashmina in her honour. Sandi was so convinced by the get-up that she thought 2 had become 1, but Paul begged to differ: "Stop right now, thank you very much." Although the biscuit chandelier challenge was so tricky the bakers were begging for their Mamas, their final bakes blew Paul away. His verdict? "Spice power!"
All this talk of spice has us thinking; if everyone's fave nineties girl power gang, The Spice Girls, were popping over to the tent for a cuppa, what would they want, would they really, really want… the bakers to make for them?
Scary Spice
Scary deserves the scariest spice – it's got to be a flaming hot dose of chilli. There are loads of chilli varieties, including habanero, jalapeño and cayenne, but all pack a punch. Chilli and chocolate cake brings the heat without burning someone's taste buds for life.
Baby Spice
Not all babies have had time to develop a finely tuned palate for spice, so best to play it safe with the gentle taste of nutmeg. Like Christmas in a cup, this spice has the added benefit of helping people (and babies) to sleep. Cinnamon and nutmeg biscuits should do the job for Baby Spice.
Posh Spice
There is no posher spice than saffron, which is more expensive than gold. Made from crocus stigmas, it has a floral taste a little like honey. Saffron and pistachio biscuits are crisp, sweet and posh enough for any guest.
Sporty Spice
Sporty Spice is probably full of aches and pains from all that exercise. Turmeric, a natural anti-inflammatory, will sort her out in no time. A bright yellow Middle-Eastern inspired turmeric cake is perfect for a post-workout break.
Ginger Spice
It's got to be… ginger. Gingerbread, ginger cake, crystallised or root. Everyone's nuts for ginger.
The Great British Bake Off airs Tuesday evenings at 8pm on Channel 4. Missed Spice Week? Catch up on All 4.