Kimberley's inventiveness and ability to combine flavours within bakes, along with her knowledge of baking disciplines and skills, all equate to a lady who should clinch the trophy.
I've always had a soft spot for Kimberley as we are similar in our cool-headedness and approach to baking and food. Very little, if anything at all phases her.
Kimberley in recipe form would read as follows:
– A cupboard full of spices
– A large mixing bowl full of dried unusual fruits that can only be sourced from a far away country
– A mega tonne of the finest most highly sort after chocolate, that no one else has heard of or can pronounce
– Combine the above in any shape or form with a very cool head and an attention to detail that would put many to shame, add several garnishes that no one else would have thought of doing and serve with the biggest, brightest and most beautiful smile ever.
Her filo pastry pie was out of this world and I knew from that point on that she would go really far. I also loved the wild garlic pesto she made for her wheat-free bread – all amazing flavour combinations and interesting garnishes – especially the pork scratchings and chicken skin crumble on her filo. Oh. My. God. Kimberley's peace bread was fabulous too.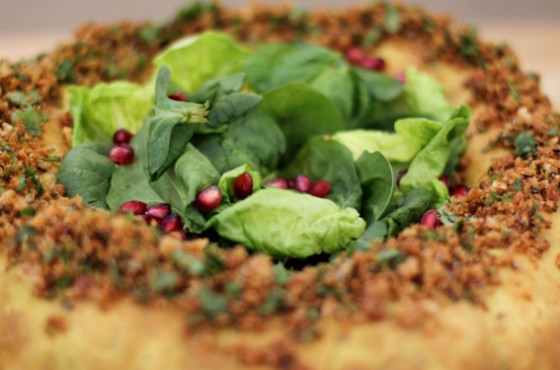 I find it so funny when I get stopped in the street! I love the fact that random people will start talking to me like as if they've known me for years and like I'm a old friend. I don't regret in the slightest sending in the application form a year ago. It has been great meeting 12 other bakers who all have their own baking style and flavours, plus I've learnt to push my flavour boundaries and experiment more with what's possible within all the baking disciplines. Mel and Sue are just amazing to have in the tent and made sure we were OK and not crying unnecessarily over cake!
On #TeamKimberley? Join the fans on our official Facebook page, and the conversation on Twitter…