Doesn't thyme pie when you're having bun?
Now that we've used up our entire pun quota for the day in a single sentence, we can move on to how broken-tarted (sorry) we are to have said goodbye to Briony in the Semi Final of Bake Off this week. In a flurry of lamination, a pastry palaver and some unforgettable scenes involving sugar, Pâtisserie Week went down in history as one of the most challenging weeks in Bake Off history, and though Rahul, Ruby and Kim-Joy made it through as our three finalists, Briony's time in the tent came to an end. Here are her thoughts on the batter.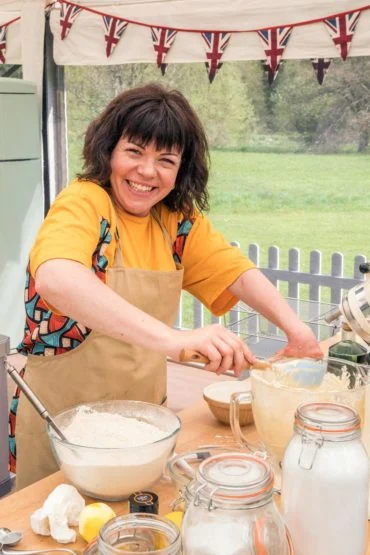 "Being a Semi Finalist was the most incredible feeling ever, and I will always wear my Semi Finalist badge with pride. After it was all over, I messaged my family and told them what had happened. I signed off the message with: "Briony Williams, GBBO Semi Finalist 2018"!
"I was really proud that I got as far as I did because I didn't think I would make it through the first episode, let alone to the ninth! I felt really honoured — literally over the moon. I don't feel sad that I didn't make it to the final, I was just so happy. I had a little cry after the Showstopper but it was more a release of emotion, and I left with a big smile on my face. The other Bakers were messaging to ask what had happened, and I messaged them back saying that I was leaving but as one very happy Semi Finalist!
"The Seven Veils cake was a disaster for me. I overcooked the mirror glaze and then every element of my Showstopper went wrong, and it ended up as raw pastry!  My chocolate eclairs were the worst out of the three, with too much salt and not enough filling as I ran out of time. I am usually pretty comfortable with making pastry, but something happened that day and it all went very wrong!
"I was dreading being on television, but I got used to it quite quickly. There are some cringeworthy moments, but a lot of the positive side was seeing my friends and family get excited about me being on telly, and of course it was lovely to see the tent again (on screen this time!).
"I realised quickly that I had to focus on what I was doing and not worry about the cameras. They are an easy distraction, but you have to time-manage constantly. By the end I felt so connected with the cameramen and production crew that I ended up chatting away to them and forgetting that they had a camera on their shoulder.
"We have been to the same pub each week to watch the show with friends and family. There are usually about 40 of us. I bake something related to that particular week, and we said from the beginning that we would do that every week, regardless of whether I am still in the show. My husband Steve just beams with pride and watches it squeezing my hand. Nora says "mummy is on the telly" but doesn't really understand it all — she is only three.
"Getting Star Baker in Pastry Week was of course a big highlight, and one of my proudest moments. I got upset in Danish week and decided I had to really pull myself together and not let my emotions get the better of me. I ended up coming first in the Technical, though, and I felt that I had really channelled the emotion into something positive.
"I don't really have any bad bits, but halfway through the Showstopper in Pâtisserie Week I didn't know why everything was going wrong, but I was determined to finish it no matter how bad it was. Noel came and kissed me on the forehead and I thought it was such a sweet gesture, it made it all ok for me.
"Getting praise from Paul and Prue is just the best feeling in the world – you feel like you are floating as it's such an achievement – but obviously when you get the negative comments it's a bit of a punch in the gut. You put your heart and soul into it, so it's pretty heartbreaking when they don't like it, although 99% of the time I have to say I agreed with their comments.  They are fair and honest and they know what they are talking about. You can't really fault them.
"I really enjoy making birthday cakes for my friends' kids, and it brings a lot of joy to see their little faces light up as they are so thrilled. That's pretty special to me and that's why I like baking; to see people's reactions.
"Bristol is very special to me; I was born and bred here, and came back after University. I always thought I should move away from Bristol as it's my home town, but it's where my family and friends are. I am very proud of Bristol, and I hope I have made the city proud by being on Bake Off.
"At the minute I don't know what awaits me! I am an open book and excited about what could happen. I am hoping to do some more baking and put my recipes out there. It's still a bit unknown but I want to use this opportunity to try new and different things.
"You really do make friends for life with the bakers, as the experience is so unique. It's an unbreakable bond that isn't going to go away. I will treasure every moment of my time in the tent, and aside from having my daughter Nora, it's been one of the best experiences of my life."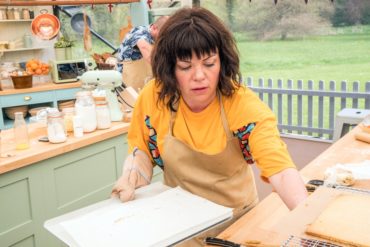 Briony will join Jo Brand on The Great British Bake Off: An Extra Slice on Thursday 25th October at 8pm on Channel 4. Don't miss the Final of Series Nine of The Great British Bake Off, which hits your screen at 8pm on Tuesday 30th October on Channel 4.