An edible Dalek, collapsing biscuit towers, shortbread Jenga and more puns derived from the French word 'tuile' than anyone thought possible. It could only be Biscuit and Traybake Week on The Great British Bake Off…
"Suddenly my lonely little hobnob doesn't look like such a treat after watching biscuit towers on @BritishBakeOff," joked @_TashaJohnson on Twitter, summing up the mood of a drooling nation after being dazzled by the sublime showstoppers.
Incorporating scientific precision into his bakes wasn't enough to save Rob, who was given his marching orders after immortalising Doctor Who's most famous nemesis in biscuit form. It was perhaps no coincidence that Paul Hollywood, with his goatee and black clothing, resembled The Master from the 50-year-old British science fiction series.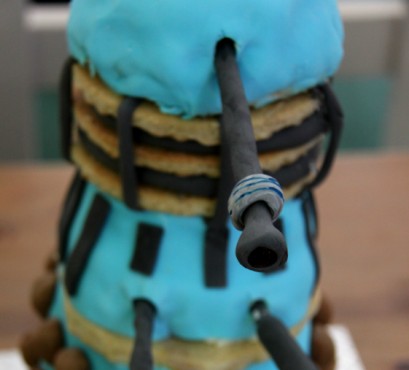 Rob's Showstopper bake: Dalek almond biscuit tower
"Rob, you have been exterminated by your very own Dalek!" boomed @ejecupcakes. "I think the edible glue was the downfall of this Dalek," concluded Karen Ward on Facebook. A more compassionate approach came from @wholockedgirl, who tweeted: "The Dalek tower is amazing!! He is a genius!"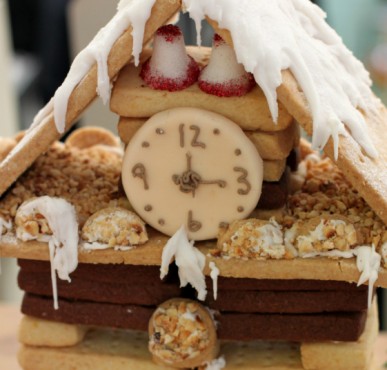 Christine's Showstopper bake: Shortbread Bavarian Town Clock Tower
As for Star Baker Christine, her Bavarian Clock Tower showstopper was described as "a thing of beauty" by @crisaliabt. "That clock is incredible. I wouldn't know where to start," admitted Jane Britcher on our official Facebook page. You could almost hear the viewers weeping as the beautiful constructions were dissected by Paul and Mary.
Mind you, one showstopper was demolished before the judges came close. "Frances' tower was NOT bigger on the bottom than on the top… of course it fell down!" reckoned Emma Parry. "It was Mel's fault it toppled when she interfered with a ruler!" claimed Jo Jones, as the conspiracy theories hit the web.
Something that's designed to come crashing down is a popular game that involves removing blocks to create unstable structures. It came as little surprise that Frances' signature bake was such a hit. "Edible Jenga. Possibly the best thing we've ever seen," gushed @Cath_Kidston. "Jenga pile – another clever idea to make one smile. The big kids in us like that," wrote Amber Nesbitt.
"Oh my word, this is a HORRIBLE tech challenge!!," tweeted @jacquicottrell about the tuile torment inflicted on the bakers. "Tuiles? No piping bag? Oh my gosh how evil is Mary! I feel for the bakers this week," piped up @erindavies.
Still, this hardship did allow Sue Perkins to accost student Ruby with an absolute gem of a one-liner that compensated for any dodgy pun in the past, present or future. "You're doing a philosophy degree and a piping bag fails you? You've studied Wittgenstein!"
The next theme is Sweet Dough, so no doubt the bakers will knead to use their loaf to avoid any soggy sponges… and have some earplugs to shelter themselves from the dodgy puns!
(P.S. Thanks to @ginger_ninja24 for the #BakeOffFriends title of the week!)
Join fans on our official Facebook page
Join the conversation on Twitter