Have you got yourself into a dessert-disaster? Is your knickerbocker lacking in glory? Never fear! Our spotted-dictionary is here to help aspiring pudding producers, dessert designers and cake constructors…
Blancmange
A Seventies favourite, 'blancmange' is like a cold custard shaped in a mould and thickened with gelatine. The packet version has a bad rep, but homemade blancmange is 'angelic' and 'delightful'.
Langues de Chat
Light, crunchy French biscuits, perfect for serving alongside homemade blancmange. The translation – cats' tongues – just doesn't sound as appetising for some reason…
Opera cake
A French cake with layers of ganache, cream and light sponge cake. There's a hot (alright, lukewarm…) debate raging about whether it was invented by cakemaker Louis Clichy in 1903 or famed pastry shop Dalloyau in the 1840s. That's what you call a gâteaux-grudge.
Rustic
When all else fails with your baking, tell people you were aiming for the 'rustic' look. Like Jon said, it'll help you get away with anything.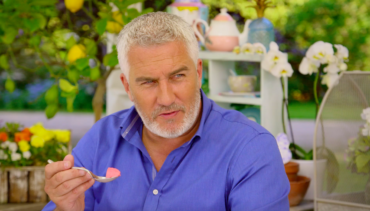 Tuck into a freshly-baked episode of The Great British Bake Off every Tuesday night on Channel 4 at 8pm. Missed one? Catch up on All 4.