The Bake Off squirrel has been a frequent cast member on the show since series 1 – stealing the show with only seconds on screen. But where has the little fella gone? We spoke to the last person to immortalise our furry friend in a bake (in Episode 1 – Cake Week), Frances Quinn…
"My first ever Secret Squirrel Cake was made as a surprise for a colleague at work who was leaving to have a baby. One of her nicknames was squirrel and she and everyone else in the office affectionately started calling the baby inside the bump the 'secret squirrel'. So I created a secret squirrel cake, this time hidden inside a trunk. For weeks after the cake, squirrel and last chocolate biscuit acorn had been eaten the one question being asked around the office was 'How did she get a squirrel inside that cake?!'
My Secret Squirrel Cake in Episode 1 was made up of marble cake tree trunks, with a chocolate and hazelnut squirrel hidden inside. Within the marble cake mixture is white, milk and dark chocolate and a whole assortment of nuts.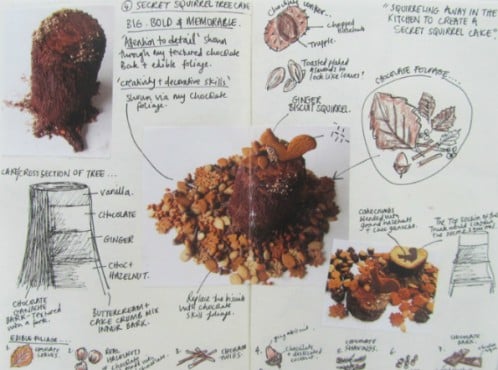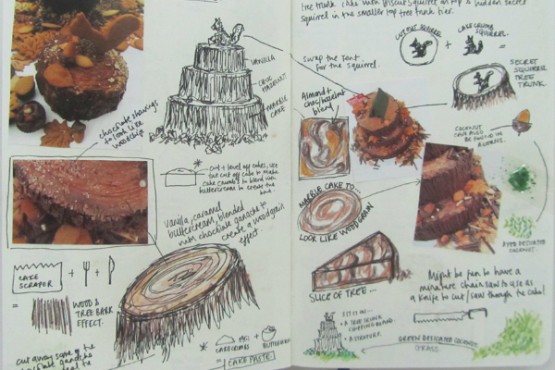 Images courtesy of Frances Quinn
Using ground nuts, nut milks and nut oils the cake is kept moist as well as providing winning flavour combinations like dark chocolate, coffee and walnut. My Chocolate and hazelnut ganache and buttercream provided the effect of the tree's bark with added chocolate woodchips in the guise of biscuit and chocolate shavings. An assortment of coconut acorns, ginger biscuit leaves, chocolate twigs and a bountiful collection of nuts make up the surrounding forest of edible foliage. Nutty but very nice!
I can't wait to squirrel away at creating more squirrel inspired bakes!"