This week, The Great Celebrity Bake Off for Stand Up To Cancer was something of a family affair, with celebs dedicating their bakes to brothers and partners, or drawing on family traditions to avoid the dreaded soggy bottom. If watching our celebs try their hands at baking (with extremely mixed results) to raise money for Cancer Research has got you feeling inspired, you can host your very own family Bake Off and raise some dough of both kinds in your own kitchen.
Just click here to order a fundraising pack filled with recipes, baking goodies, and everything you need to make your kitchen feel like the Bake Off tent, assemble a group willing to sample your family's baking and set the egg timers for your first challenge.
On your marks, get set… BAKE!
If you need a bit of inspo first, here's how our third batch of celebrity bakers brought their family into the mix. If there's one thing that these bakes prove, it's that it's the taking part that counts and not the end result…
For Made In Chelsea's Jamie Laing, baking's in his blood – his grandfather invented the digestive biscuit, didn't-ya-know? In Jamie's case, however, it looks like the biscuit-making skills may have skipped a generation. On the plus side, his towering meringue tribute to his Etonian brother gets top marks for being anything but a mess.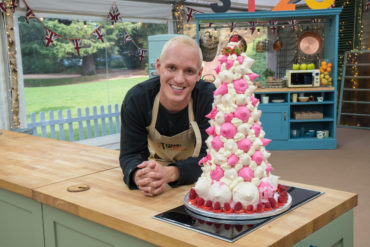 Totally new to baking was Tim Minchin, comedian and writer of West End musical Matilda. He was hoping to avoid a bum note that might embarrass his daughters when he took on Paul and Prue's challenges in the tent. And while he was some stretch away from winning Star Baker, his daughters will surely be scoring him 10/10 for effort.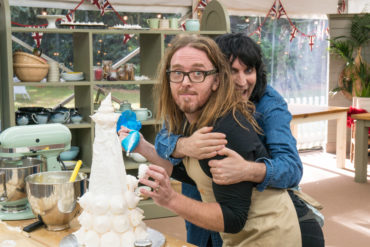 Pop star Ella Eyre has performed on stage in front of thousands of fans, but she'd never baked so much as a cupcake for anyone before entering the tent. So would she make her mother, a professional baker, proud? The proof was in the pineapple-shaped meringue pudding.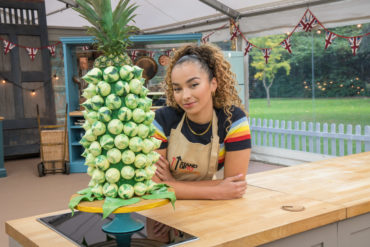 As a member of Scottish Parliament, Ruth Davidson is used to standing up to scrutiny… but could her bakes win over the tent's electorate? Clearly Ruth was hoping to have the luck of the Irish on her side by dedicating her showstopper to her partner's Irish heritage. The result? A landslide.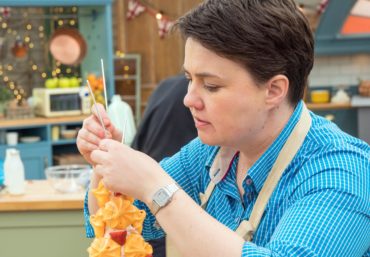 Get your fundraising pack and start baking here.
The Great Celebrity Bake Off for Stand Up To Cancer is a five-part series to raise funds for Cancer Research UK on behalf of Stand Up To Cancer. Catch a fresh batch of celebrities every Tuesday night from 6th March until 3rd April at 8pm on Channel 4.
Please donate generously to this wonderful cause at www.channel4.com/su2c.