Pastry Week: an episode characterised by crumbling nerves, pressure (and pie fillings) bursting out of every crevice, and a higher-than-average incidence of soggy bottoms. Not only was it a pastry-palaver of epic proportions for everyone involved, but a sad day indeed for every Bake Off fan as we had to bid goodbye to Dan, who, despite flaking a little at the tricky challenges posed this week, had a mostly-showstopping run on the show in which he won Star Baker once and clocked up no less than three Hollywood Handshakes.
Here he is for one last goodbye chat.
"Before I got into the tent I thought, wouldn't it be amazing to get Star Baker and maybe get past the halfway mark? So I feel I have achieved everything I wanted to, especially on the Signatures. The first week in the tent I was literally shaking with nerves, but it did get a bit better as we went through. Bake Off is a marathon of endurance! Overall, it was a great race and a very positive experience.  And I do feel good about that.
"The worst moment was halfway through the technical in Pastry Week — I felt I had messed up and I knew I couldn't recover from it. I made stupid mistakes in the Puits d'Amour challenge and knew from then it was all going a bit wrong.
"Funnily enough, getting Star Baker was more relief than happiness, so I think my best bit was during Bread Week. I really wanted to impress Paul, so when I got a handshake and he said that the bake was annoyingly perfect — well, that worked for me! When you are a stay at home dad you don't feel that successful, and I feel that by being on the show, I was able to show my kids that I work hard and try hard, and it's good to set that kind of example.
"My husband Phil was such a great support when we were filming. He was the reason that I was able to do this, because when I needed to practise he looked after the children. I would say he worked as hard as I did for this, and I wouldn't have got past day one without him. Watching the show each week has been really lovely; all my friends and family are so incredibly supportive of me. It's too easy to concentrate on your failures, and friends and family have helped me to celebrate my successes.
"I have no idea what is next for me, but I shall be watching the show with great interest as I don't know what happens from here on. I didn't bake for about a month after filming, and now I am really back into it, making birthday cakes and coffee morning cakes. I feel I have my baking mojo back. It's really lovely when people say "wow, a birthday cake made by a Star Baker!". Life is good."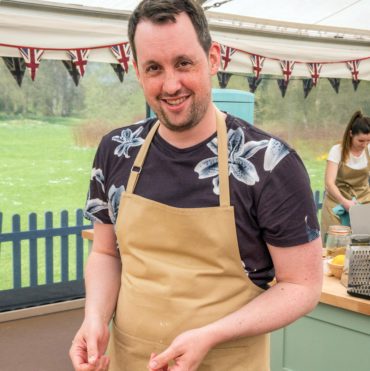 Dan will join Jo Brand on The Great British Bake Off: An Extra Slice on Friday 5th October at 8pm on Channel 4.