It was the Bake Off's first ever Vegan Week, and what a week it was! Every baker rose to the challenge of baking without using any meat, eggs or dairy in their own unique way, cooking up a cacophony of plant-based puds. Sadly, we had to wave pud-bye to Jon, as he became the seventh baker to leave the tent. Here are his final words with us.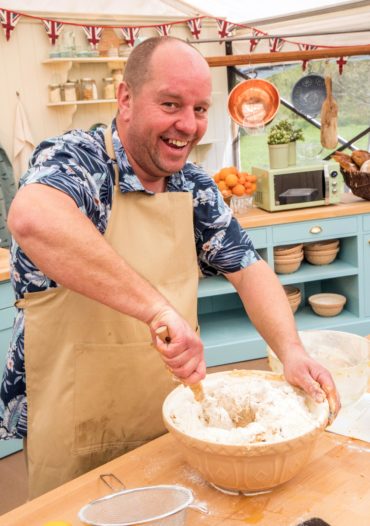 "I never got Star Baker but I got a Hollywood Handshake and I got to Week Seven, and that is good enough for me. As a self-confessed meat eater I have only ever cooked one vegan meal in my life: a three-course vegan dinner for a family celebration, and there was a lot of banter going on. I didn't think a vegetable would prove to be my Nemesis, but the vegan gods got to me. My Showstopper cake, Only Fools eat Horses, looked a bit knocked-off, but it was certainly edible and Paul liked my flavours. My real downfall this week was the Signature.
"My best bit on the show was being on the show, simple as that. Dessert Week was my best week; I got a Hollywood Handshake for my roulade which was great, and I went back to my chemistry set to make my lemon ball topping.
"Other than going home, my worst bit was seeing the other bakers leave each week – it was sad to see friends go. In Spice Week we all gave each other names like the Spice Girls, but unfortunately mine weren't that complimentary; I was either called Bald Spice or Old Spice. It was lovely to see comments on social media comparing me to a knight in shining armour for helping Ruby, but I only helped her to make a sauce! It's not quite the same as saving lives as a blood courier.
"I am very patriotic and managed to get a bit of Wales into nearly every episode. I couldn't get any of Wales into Vegan week though, so that's probably where I went wrong.  
"My older kids James and Emily have been loving the show, along with my two younger daughters Lucy and Hannah. The family have always liked my baking; Debbie my wife loves my ginger cake the most. She is one of my greatest supporters and I couldn't have done Bake Off without her.
"I will continue to wear Hawaiian shirts and shorts whatever the weather… there were some pretty bright ones on the show in varying degrees of loudness. Although you don't often see me in a tutu, I wanted to wear one on the show and it got a laugh! I don't know what's next up for me, I will carry on baking and my dream is to start a baking school in Cardiff. You never know what's around the corner!"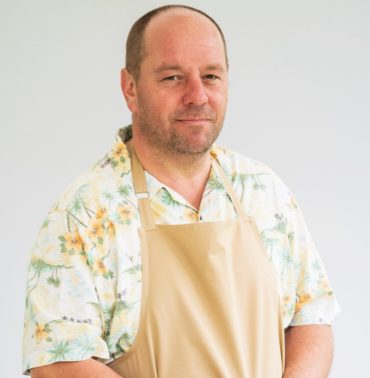 Jon will join Jo Brand on The Great British Bake Off: An Extra Slice on Friday 12th October at 8pm on Channel 4.