Whether you're a baking beginner or a pâtisserie pro, help us raise dough for Stand Up To Cancer with a Bake Off fundraising pack.
This week we saw singer and presenter Stacey Solomon, Kaiser Chiefs frontman Ricky Wilson, Diversity dancer Perri Kiely and Countdown host Nick Hewer take on one of the most daunting pâtisserie challenges known to the tent: the towering Croquembouche. A pinnacle of highly decorative choux buns, this is a tricky task that demands finesse, skill and craftsmanship. Or, alternatively, you could just give it a good bash and hope for the best.
Take some inspiration from our celebrity bakers and have a go at creating your very own showstopper, with the aim of raising money for the brilliant cause that is Stand Up To Cancer. Download a fundraising pack and get stuck in here.
In the meantime, here's some inspiration courtesy of Stacey, Ricky, Perri and Nick.
Stacey's Unicorn Croquembouche
The plan: A delicate ascent of technicolour chocolate rainbows, chocolate flowers, and fluttering butterflies. The ultimate millennial centrepiece.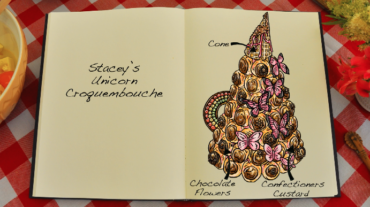 The finished product: Closer to the description she gave us at the start of the challenge, where she said: "If you cut me open, you would see a spillage of unicorns and glitter". And that's no bad thing.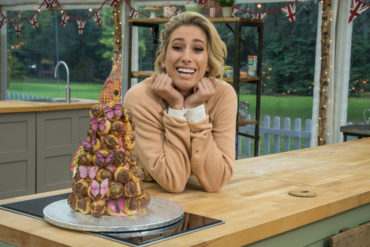 Perri's 'Get a haircut' Croquembouche
The plan: Putting two iced fingers up Sourcing inspiration from his style critics – passing drivers who wind their windows down to tell him to cut his hair – Perri set out to create a choux-based salon chair where he could get a trim.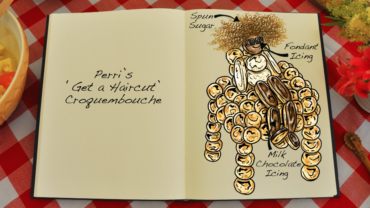 The finished product: A showstopper that Paul Hollywood described as "quite magical". Even with a thinning head of spun-sugar hair, Perri Kiely has locks to die for.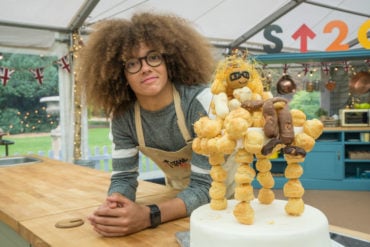 Nick's "It's all sixes and sevens to me" Croquembouche
The expectation: An edible ode to Countdown in the style of a traditional, cone-shaped croquembouche adorned with letters and numbers.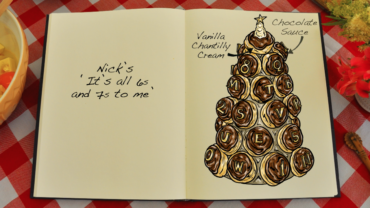 The reality: Five batches of scrambled eggs, a textbook demonstration on how not to pipe filling into a choux bun, and a finished product that isn't likely to win him a Countdown-branded apron anytime soon. But, most importantly, he certainly had a good time doing it.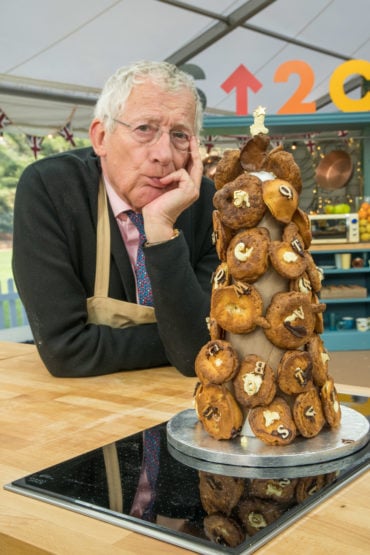 Ricky's Microphone Croquembouche
The plan: As a clever twist on the traditional, cone-shaped croquembouche, Ricky planned to flip the cone upside down to mimic a microphone.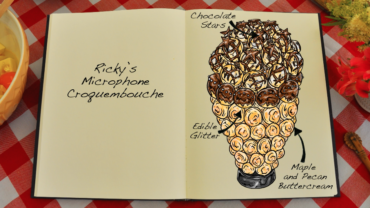 The product: The result ended up being pretty close to the plan, and impressively adorned with perfectly filled choux buns. It certainly didn't not look like a microphone, so that's a bonus.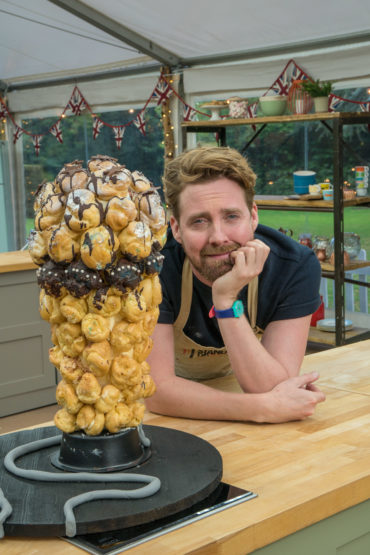 Get your fundraising pack and start baking here.
The Great Celebrity Bake Off for Stand Up To Cancer is a five-part series to raise funds for Cancer Research UK on behalf of Stand Up To Cancer. Catch a fresh batch of celebrities every Tuesday night from 6th March until 3rd April at 8pm on Channel 4.
Please donate at www.channel4.com/su2c.