This week, Sandi set Noel a fiendishly difficult word puzzle that would test his intelligence beyond measure: a riddle-drawing of an angry bread roll in the blazing sunshine. A hint was needed.
"So it's a bun, and he's angry, and it's really hot", she prompted.
Noel shot back with laser wit: "Toad in the hole."
10/10 for effort Noel, but better luck next time. Speaking of, here's our baking riddles or… hot crossword buns.
Richard suffers from acne.
Frog in its entirety?
A borrower's favourite biscuit.
This prestigious school needs a clean.
Almost the opposite of hell freezing over.
This afternoon tea treat vanishes as soon as you say it.
Which kind of tart is never badly baked?
A drunk baby's favourite cake?
As baffled as Noel? Peep below for the answers.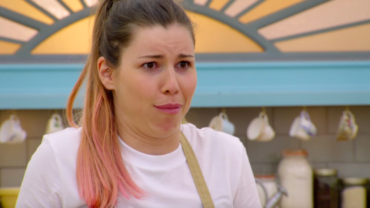 Spotted dick
Toad in the hole
Shortbread
Eton Mess
Baked Alaska
Scone (because 'it's scone'… geddit?)
A Bakewell tart
Rum baba
For more tenuous baking-related puns, tune in to The Great British Bake Off on Tuesday evenings at 8pm on Channel 4, or catch up on All 4.