There was tension, there were tiers, and there was a tough call for Paul and Prue to make – who should be crowned Britain's best amateur baker of 2017? All three finalists had proved themselves to be fantastic bakers over 10 weeks worth of challenges in the tent, but only one baker could scoop the prize. Though Kate nailed her Signature miniature loaves and created a truly mesmerising mirror glaze for her entremet Showstopper, it just wasn't meant to be.
We caught up with Kate to congratulate her on baking it to the final and see what's next for the 2017 finalist.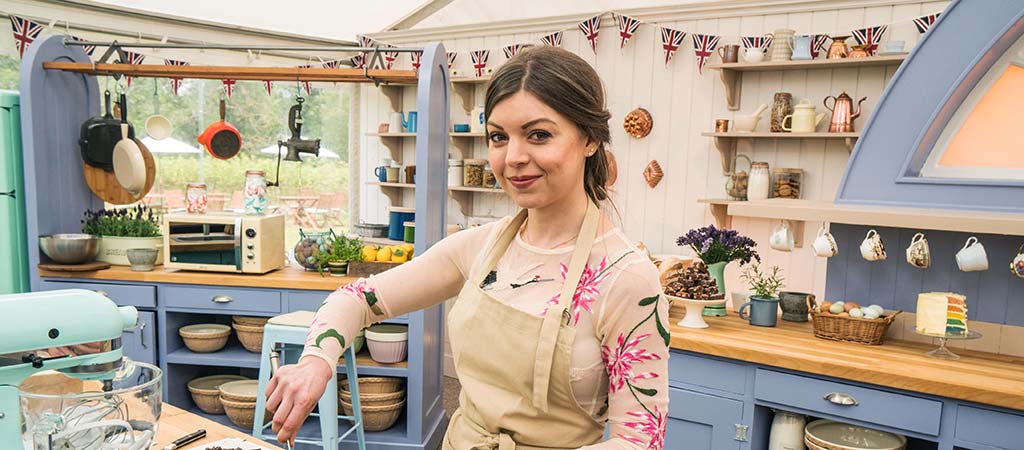 How did you feel about being one of the 2017 bakers?
"I take most things as they come – I don't think too far ahead, I only set out to do the best I could, challenge by challenge. It wasn't until I got into the final that it sank in I was actually a finalist!" 
What was it like walking into the tent to bake for Paul and Prue for the very last time?
"Walking in the tent for the last time was great! I didn't feel the pressure – it was an achievement to get to the final. I was appreciative of the fact that it would be the last time we would all be baking in the tent so I just enjoyed the last challenge, had fun with it and did my best. I bake a lot at home – I love to experiment and try out ingredients, so it's nice to be able to return to baking at a more leisurely pace." 
Which of the judges did you most want to impress?
"I didn't set out to impress anyone. If you think about impressing people then you are doing it for the wrong reasons. Doing bake off was always a personal challenge."
Let's talk about your 'pies' and 'doughs', starting with your favourite bake…
"I really loved the final showstopper. I of course knew that it would be the final challenge of the series and the last time I would be baking in the tent. There wasn't the same pressure – it was more about just enjoying the experience."
… and what about any dough moments?
"In Caramel Week, Episode 4. Stroopwafels. Need I say more?"
Was it difficult keeping it a secret from your friends and family that you were filming for the show every weekend?
"There were all kinds of wacky theories about where I kept disappearing to all summer. Everyone was amazed at how good I was at keeping it a secret!"
If you were a cake… what would you be?
"I would have to be a fruitcake. The more alcohol you pour into it, the better!"
Given the option, would you go back to the tent and do it all over again?
"Yeah, why not!"
What's next for you?
"I just take each day as it comes. Whatever will be, will be!"
Kate – you were a worthy finalist indeed. TTFN!