Roll out the red carpet! Our first batch of celebrity bakers are hot and fresh out of the tent, where they battled it out to win the coveted Star Baker apron in the name of raising some dough for Cancer Research UK. Though there were a couple of triumphant bakes, comedians Harry Hill and Roisin Conaty, newsreader Bill Turnbull and musician and actor Martin Kemp presented more than one soggy bottom for Prue and Paul's appraisal.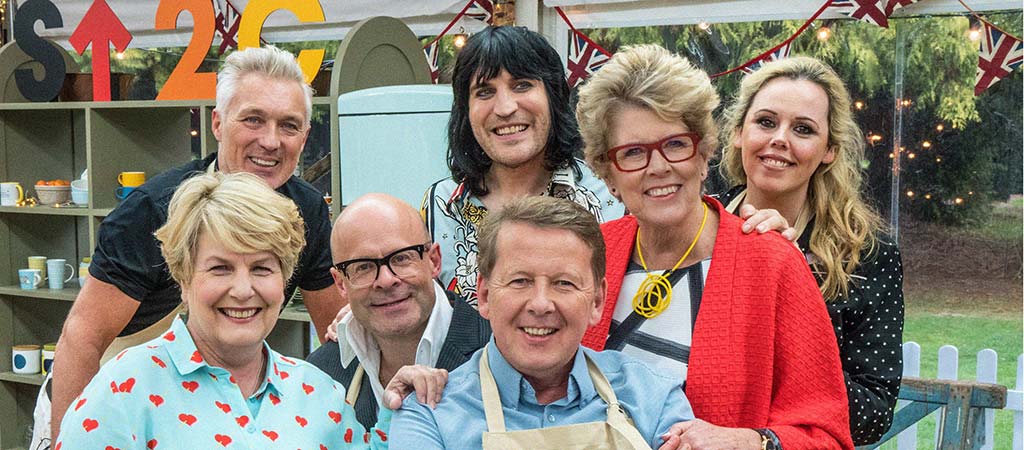 1. This life hack: wash your face keep check of your hairline. It's a pearl of wisdom courtesy of the beacon of baldness that is Harry Hill. As he put it: "I lost my hair when I was 23, and I noticed that basically it was taking longer and longer to wash my face".
2. Buttercream = not for baking. Martin had something of a celebrity mishap when he mixed up his mixing bowls, accidentally spooning buttercream frosting into his cupcake cases and popping them in the oven instead of his cake batter. But he's in good company – Martin's not the only Baker to have tried out baked icing. Remember GBBO Series 6's Mat Riley?
3. There's no holiday more thrilling than one with Camilla Parker Bowles; you'll either get a wondrous day of surfing horses and wise-beyond-their-years turtles, or a popped lilo. Take it from Harry Hill and Noel Fielding, they seem to know what they're talking about.
4. Football commentating is much easier than it looks. The main quotes to memorise are: "GOAL!" and "A man's got the ball". Thanks, Bill Turnbull, for the tips. If you'd like to see Sandi Toksvig showing how it's done, keep an eye on the box at the Wycombe Wanderers' home ground, where she seems to have been invited to put her punditry into play.
5. A strong start doesn't always guarantee success; a lesson that Roisin Conaty knows only too well, after a spectacular fall from grace via some plate-clinging crepes and a barely-propped up beach bar biscuit sculpture. All this, despite a Hollywood Handshake for her signature cupcakes.
The Great Celebrity Bake Off for Stand Up To Cancer is a five-part series to raise funds for Cancer Research UK on behalf of Stand Up To Cancer. Catch a fresh batch of celebrities every Tuesday night from 6th March until 3rd April at 8pm on Channel 4.
Please donate at www.channel4.com/su2c.