For the first time in Bake Off history, eggs, milk and butter were thrown out of the tent flaps for Vegan Week. There were tarts, meringues and towering celebration cakes, all without the help of dairy.
But are you unsure of how to milk an almond? Do you think eggless meringues are a yolk? You've come to the right place. Here's what we learned from Vegan Week?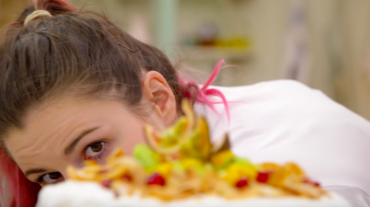 Coconuts aren't just for piña coladas
There were various butter replacements in the pastry the bakers made for their Signature tarts. Some went for vegetable shortening, others for avocado oil. But storming into the lead was coconut pastry. Paul practically burst into laughter when he tried it, saying it was "amazing". If it's good enough for butter-loving Paul…
Chickpea juice is a massive thing
The Technical Challenge – to make egg-free meringues – seemed impossible. But then aquafaba came to the rescue. Echoing round the tent like a magic incantation, aquafaba turned out to be chickpea water, a miraculous egg-white substitute. The meringues whipped to beautiful peaks and vegan-skeptics were forced to eat their hats. And chickpeas.
Sulphur tastes like eggs, but in a good way
Kim-Joy introduced us to another new ingredient this week when she added Indian black salt sulphur to her Signature quiche. As it turns out, not only does sulphur smell eggy, it tastes it too. Paul and Prue loved Kim-Joy's quiches, so it's a thumbs up for eggy-sulphur-salt.
Paul is yet to convert to veganism
Vegan Week had "buttery" coconut pastry, light meringues and eggless quiches, and Paul acknowledged that the bakers had managed to convince him that it was possible to make great-tasting food without dairy. Noel asked what everyone was thinking: "Is there a Paul Hollywood vegan cookbook?" The simple reply was: Nope.
Watch The Great British Bake Off on Tuesday evenings at 8pm on Channel 4, or catch up on All 4.