For Ruby, a rocky start in Week One was not enough to hold her back from baking her way to the Final of Series Nine of The Great British Bake Off. In fact, she scooped Star Baker for the two episodes leading up to the Final, putting the trophy well within her sights. Although it was Rahul who was eventually crowned the winner, Ruby's still got a lot to celebrate from her time in the tent.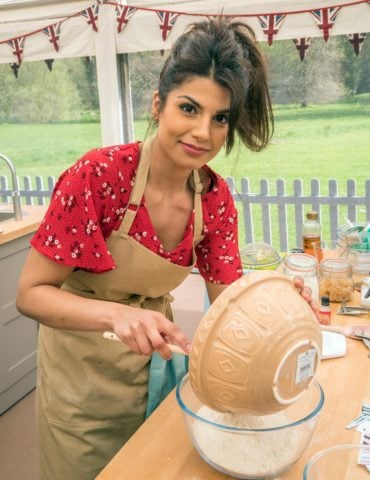 "The challenges this year were crazy! I mean… biscuit chandelier, anyone? But there were a few weeks which I was eager to get to – Pastry and Patisserie weeks being the main ones(despite a few hiccups on both). Vegan Week was the one I was dreading the most – I love vegan food but have never tried my hand at vegan baking and I think it may have showed. The lowest moment, no surprise, was the cake-slide during Vegan Week. All my hopes and dreams lying in a cakey mound was not a great feeling.
"Being named Star Baker was amazing… I was always thankful just to get through each week! The first time I won it in Week Eight (Danish Week) was very bittersweet. I was thrilled to have finally achieved the last goal I had set myself, but was also pretty upset at Manon leaving the tent. You forge such great friendships with people and seeing someone so upset was awful.
"Watching myself on telly made me feel like I have a serious case of word vomit in times of stress and pressure. I have cringed a few times at the amount of innuendos that have tumbled out. I barely told anyone about Bake Off and it was tricky dodging all the questions from workmates about what I was up to on weekends, where was I always going, and why was I always tired. I honestly blamed it on weddings. So many Indian weddings. Thank god Indian weddings normally last a week – it was a great alibi!
"Being on Bake Off was such an incredible experience from start to finish. Not only did I get to spend my summer eating my body weight in bakes but I also gained 11 amazing friends whilst I was at it."
Ruby and the other 11 Series Nine bakers will join Jo Brand on The Great British Bake Off: An Extra Slice on Friday 2nd November at 8pm on Channel 4.