Junior Bake Off is here! Harry Hill, Liam Charles and Ravneet Gill will be joined by 16 of Britain's best junior bakers, ready to show the world that they can bake anything they can imagine.
Heat One
Fyn, 10
Hampshire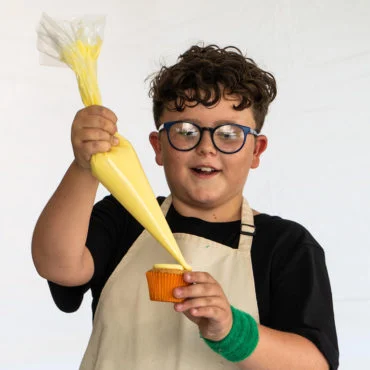 Fyn lives in Hampshire and has one sister. He has been baking for as long as he could hold a spoon, but it was his surrogate grandma who really developed his interest by creating marvellous bakes with him every Thursday, while his mum was at work. A creative soul, Fyn likes to combine an artistic style and "healthy cakes" often using fruit and veg from his Granny's plot. More recently, you can catch Fyn testing his cinnamon rolls and hot cross buns on his school friends. Fyn's hobbies and interests run as wide as his imagination, he loves: rollerblading, football, painting, guitar and drawing. One day he would like to become an astronaut!
Fern, 10
Merseyside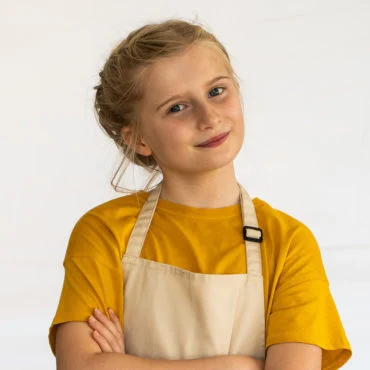 Fern lives in Merseyside and has one older sister, also known as her "Official Taste-Tester". Fern has been baking nearly all of her life, learning from her parents and her Gran. Gran would often be the one to set Fern her own 'technical' baking challenges, giving her a chance to have a go at a bit of everything; from choux pastry to meringue. More recently, Fern has been trying to conquer bread and is particularly proud of the rainbow loaf she made to honour the NHS. Anatomy-obsessed Fern is on a mission to learn and name all the bones in the human body. Science is her favourite subject, partly because it links into baking, but also because Fern wants to be a paediatrician when she's older and put her anatomy knowledge to good use.
Sophia, 10
Hertfordshire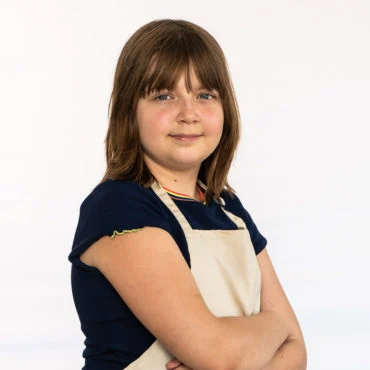 Sophia lives in Hertfordshire and has an older brother and a beloved cat Vasily. She has only been baking for a couple of years and has proved herself to be a fast learner: frequently attempting new recipes and sometimes practicing them three times a week.  Sophia enjoys drama and prefers to play villains in school plays as they are more 'fun'. Also a keen artist and party planner, Sophia's logical thinking is key to her baking success and she tries to approach every recipe in a methodical way. She likes to include her Ukrainian heritage in her baking and has learnt a few popular Ukrainian recipes such as Medovik baking with her mum.
Cece, 14
Kent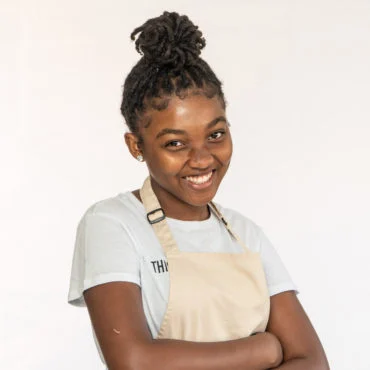 Cece lives in Kent and has a younger brother and sister. She started baking at 8 and by the age of 11 made her sister's christening cake. When Cece isn't baking, she can also be found dancing, whether it's at home in her room or in the school dance productions. Full of fun and wit, Cece is involved in an ongoing prank war with her brother: they love playing jokes on each other, trying to one up the other with every new trick. She is a methodical baker and puts a lot of thought into her bakes and how to bring them to life. Recently Cece has been focusing on mastering more technically challenging bakes, her latest being a Japanese cheesecake; its success is a testament to her ever-growing skill set.
Reece, 14
Leicestershire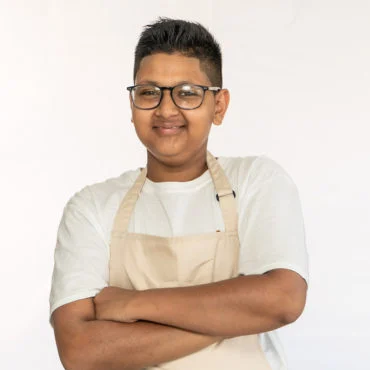 Reece lives in Leicestershire, he has four siblings and three dogs. He loves getting together with his extended family and baking for them. He grew up watching his mum bake both Indian and English desserts in the kitchen, which inspired him to do the same. Drawing upon his Indian heritage, Reece enjoys fusing spices into his bakes and topping them with homemade Indian sweets. Reece got into baking at a time when his mum became ill and believes that baking is "a way of showing someone you're there for them". He has since taught himself a range of baking skills from videos online, with choux pastry now being his absolute signature! An organised and truly committed baker, Reece likes to get all his ingredients weighed out the night before and, if necessary, wake up at the crack of dawn to begin baking his important baking projects.
Erin, 13
Worcestershire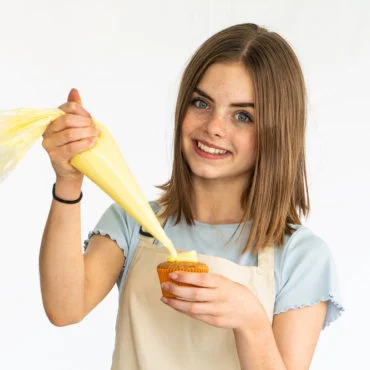 Erin lives in Worcestershire and is one of three triplet sisters. She has a Cocker Jack puppy Nellie who Erin has trained to do tricks. Erin has a passion for animals and sees herself becoming a Zoologist when she's older. She also loves trampolining, ballet and aerial dance with hoops and silks. As a triplet, Erin got into baking when her mum had to entertain her three children without the chaos of leaving the house. From 18 months old, she was making a mess with the eggs and flour, and she was captivated by the magic of seeing her mum make a cake. Erin is now confident with all areas of baking, including the notoriously tricky puff pastry! Her proudest bake is the Danish pecan and maple pastries that she made as a breakfast feast, for her Auntie's 50th birthday.
Robbie, 15
Bristol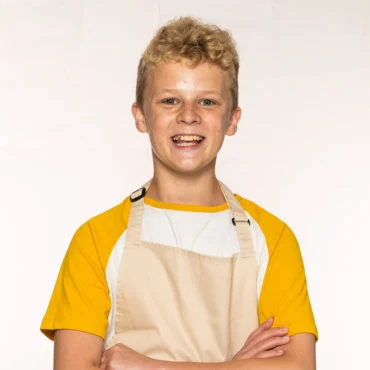 Robbie lives in Bristol and has an older brother who appreciates his baking so much that he is always willing to drive him to the shop for baking ingredients. He is known as 'smiler' in school because of his beaming grin and happy-go-lucky nature. Robbie likes to keep himself busy; he's goalie for his local football team, plays cricket, takes part in a theatre group and loves making short films. He's also the youngest person on the committee for his local village fete where he helps organise the annual raffle.  He was initially inspired to get in the kitchen by his Grandma Diane, who is chief birthday cake maker in the family. His favourite things to bake are: Cinnamon Buns, Salted Caramel and various different types of pastry.
Charlie, 10
Worcestershire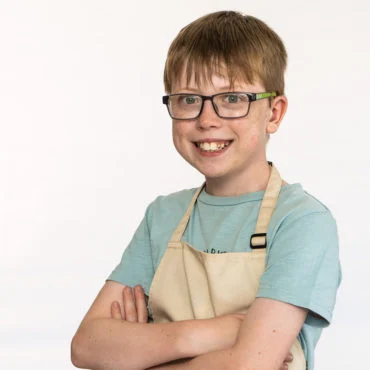 Charlie lives in Worcestershire. He has a younger sister and two pet dogs Lily and Olive. He learned to bake with his mum and Grandma Pat. He loves using his Grandma's recipes and has won a local Autumn Show's flapjack competition twice with her family famous recipe.  Charlie is also a striker for his local football team and loves cars, coding and technology. Full of energy Charlie is always on the go. His logical brain helps him to conquer more challenging recipes and he likes to take on technical bakes such as plaited loaves, Battenberg cakes, swiss rolls and anything with caramel in it!
Heat Two
Sicily, 10
Devon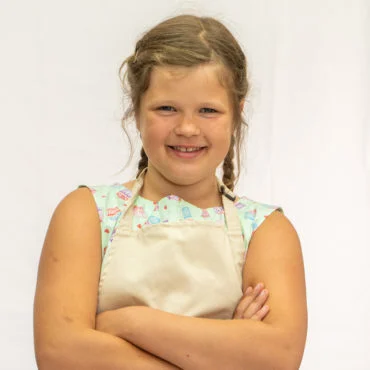 Sicily lives in Devon and has two younger brothers. Her love for baking started when she first licked the bowl of her Nanny's chocolate fudge cake and she's not looked back since. Sicily likes to make grand and impressive bakes and is famous in her local supermarket for filling her trolley with baking ingredients. At the weekends you'll find her spending time on the beach with her family or getting her skates on to go roller booting with her friends.
Naima, 10
South London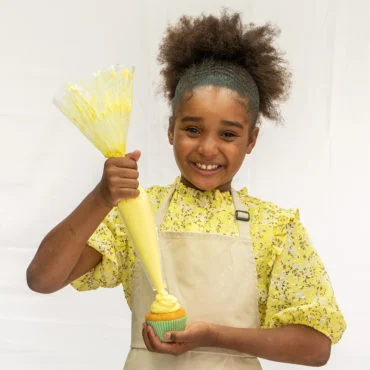 Naima lives in South London and has one brother, who's also her best friend. The first time she baked was at her Nan's house when she clearly remembers asking to make vanilla sponge cakes instead of joining in the fun family games. Once she started baking she found it gave her so much joy she's just kept on going! These days Naima is a cake whizz and you can catch her making anything from cake pops to lemon drizzle and even the occasional batch of scones. Naima knows her way around flavours, creating interesting and delicious bakes that show skill and complexity beyond her young age.
Henry, 11
Hertfordshire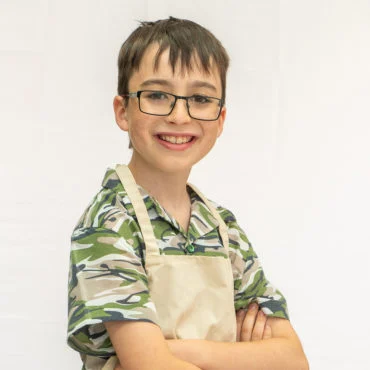 Super creative Henry lives in Hertfordshire. He loves to keep himself busy playing the flute, sewing, drawing manga characters and creating his own languages! Henry enjoys being in the kitchen with his mum. He received his first cookery book when he was four years old and his quest to master all things cake was assisted by his steely determination to succeed. Technically minded, Henry has a natural flair for concept and flavour when it comes to baking and has been working hard to improve his decoration skills.
Will, 12
West Yorkshire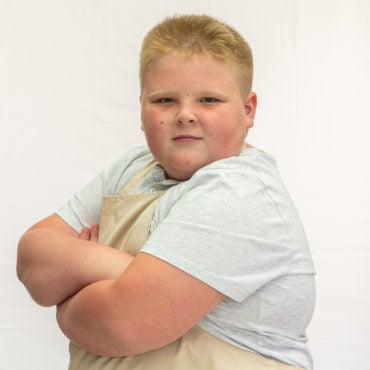 Will lives in West Yorkshire and has two dogs: Honey and Doris. His Nan first taught him to bake but these days he likes to teach himself using online baking videos. Will's signature bakes are ambitious illusion cakes (but he draws the line at cakes above 35cm)! Will's baking style is quirky, inventive and abstract and he's not afraid to go outside of his comfort zone and try new designs and flavours. These kitchen experiments however can create a lot of mess and chaos – he once forgot to put the lid on the blender and dyed Doris the dog green!
Toby, 13
Cambridge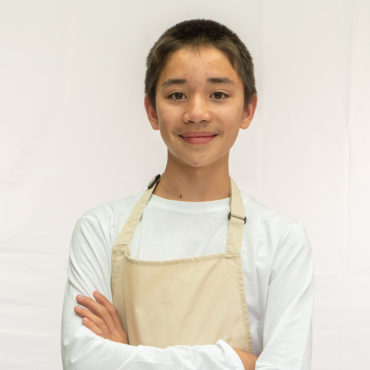 Toby lives in Cambridge and has 3 siblings.  His mum and eldest sister have taught him a lot about baking and have encouraged his passion for flavour. Toby throws everything into his bakes to make them unique. Toby's ultimate bake is pavlova, as he loves the magical transformation when the egg whites become delicious shiny white peaks. Toby loves statistics and retains notebooks full of facts and figures on his favourite TV shows, much to the frustration of his family when he's always pressing pause while they are watching. He is also a regular at his local church and loves to share his bakes with friends there.
Zack, 13
Leeds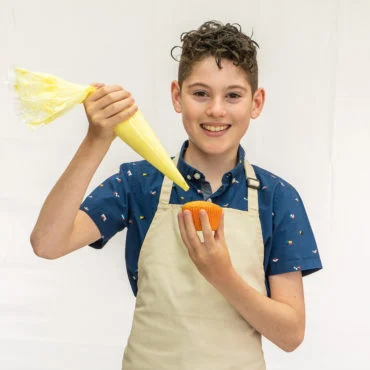 Zack lives in Leeds and has a younger brother and younger sister. His baking style may be "chaotic and crazy", but baking is his calm place. He was taught by his Mum and his Grandma from a young age but now he uses the internet to hone his skills. His speciality is bread and he is the go-to in the family for making traditional Jewish Challah. Zack is self-taught on the bass guitar and plays in a band with his friends from school. Zack always takes on the big brother duty of baking a wonderful birthday cake for his brother, each year pushing himself to make it more elaborate than the last.
Maddi, 14
Gateshead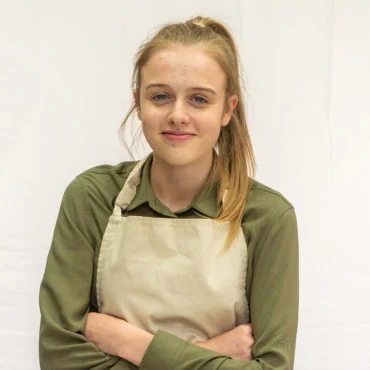 Maddi lives in Gateshead, she has an older brother and beloved pet Shih Tzu called Chester who keeps her busy in the kitchen baking his favourite apple and cinnamon dog treats! Maddi's Grandma first taught her to bake using a traditional cookbook but she started to take baking more seriously two years ago, after getting "some baking bits" for Christmas. The traditional approach to baking stuck with Maddi and she confidently bakes the classics, such as scones and Victoria Sponge cakes, as well as trending recipes like cookie butter cheesecakes and cookies and cream confetti cake. She loves all things creative, especially acting and painting and aspires to be an interior designer when she is older.
Safiyyah, 14
Reading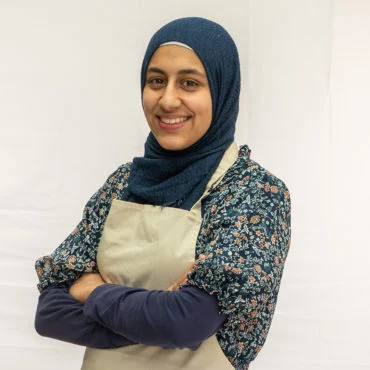 Safiyyah lives in Reading and has two sisters who also like to bake. Safiyyah is a laidback baker and uses her creativity and travelling experience to inspire her creations. You will often hear "what will happen if I put this in" coming from the kitchen while she is baking. This attitude has helped her to create interesting bakes like her famous to 'super spiced, coffee and chocolate cake.' She describes her baking as professional in style, but admits that she does mess up sometimes, especially when pushing herself to try new things. Her favourite things to bake are macarons and cheesy bread. She says that it's her patience and attention to detail that will give her the edge over the other bakers – even if she is the messy sister in the kitchen!
Junior Bake Off starts Monday 11th January at 5pm, and airs Monday – Fridays at 5pm on Channel 4.