Junior Bake Off is here! Harry Hill, Liam Charles and Ravneet Gill will be joined by 16 of Britain's best junior bakers, ready to show the world that they can bake anything they can imagine.
Heat One
Eliza, 10
Hertfordshire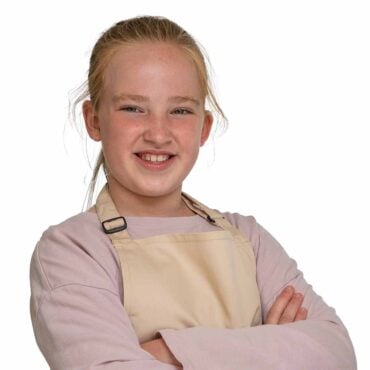 Eliza lives in Hertfordshire and has one younger sister. She started baking with her family at the age of four but became much more independent in her baking from age seven.  Her favourite flavours to use are cinnamon and nutmeg, reminding her of Christmas: her favourite time of the year. Baking is only one of Eliza's many talents. She loves performing and attends a weekly drama class. Taking centre stage, you'll often catch Eliza rapping to her favourite artists AJ Tracey and Anne-Marie and singing her favourite musical numbers too. At the weekends she enjoys spending time with her nearest and dearest, riding bikes with her little sister and dad and helping mum in the garden.
Joey, 11
Manchester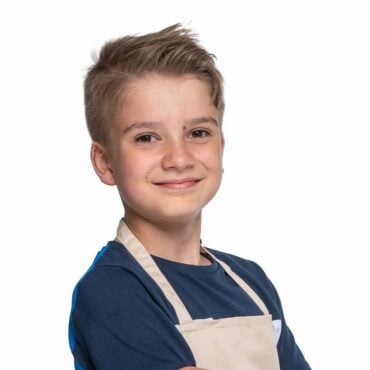 Joey lives in Manchester with his four siblings. It was Joey's mum who taught him the basics in the kitchen, but he has since gone on to develop his skills through learning online. Known for his signature (and rather technical) meringues and chiffon cake, Joey loves to challenge his scientific mind with his baking. Joey is football mad and a big Spurs fan. His talents are not limited to baking and football though, he also has a musical side and loves to compose the soundtracks for his brother's homemade cinematic masterpieces.
Kezia, 13
London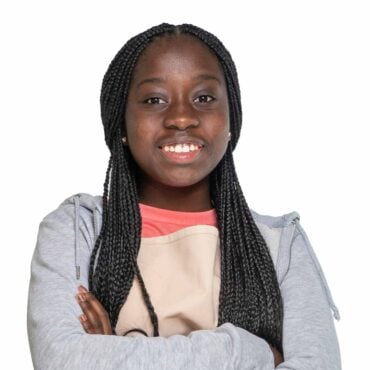 Kezia lives in London and has an older sister and younger brother. She's been baking since the age of four: cakes are her speciality, but she's up for any challenge. As well as being extremely passionate about baking, Kezia also loves cooking up a storm in the kitchen and hosting elaborate family meals. She has a huge love for the outdoors and grows fruit and vegetables in her garden which she likes to incorporate into her cooking and baking. Not only creative in the kitchen Kezia loves to paint and attended art school for two years. This artistic flare translates into her baking, where you'll see fine attention to detail and showstopping finishes.
Lola, 9
Lancashire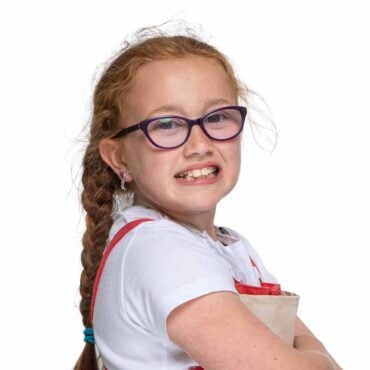 Lola lives in Lancashire and has one older sister as well as a pet dog Luna and two rabbits. In her free time, Lola enjoys ballroom dancing so much that you'll rarely catch her without her dancing shoes on (even when she's baking)! She was inspired by her dad's pastry and bread making but her own style is all chocolate all the time. She loves ginger and baking cakes that have lots of sweetness and colourful designs, reflecting her smiley personality. In the future Lola wants to own her own bakery: one half for people, and the other half selling dog treats.
Macy, 10
Liverpool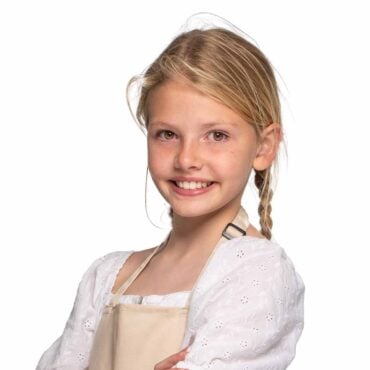 Macy lives in Liverpool and has two brothers. Relatively new to baking, she fell in love with all things flour during lockdown, teaching herself to bake using the internet. She likes to get playful and creative in the kitchen even if everything does end up a bit messy. When she's not producing great smells from her oven, Macy is a huge Everton fan with her dad and younger brother. She also enjoys playing football for her school and as part of a Girls' Football League, training every week. Off the pitch, you can catch Macy channelling her energy into practicing the drums.
Mia WL, 11
London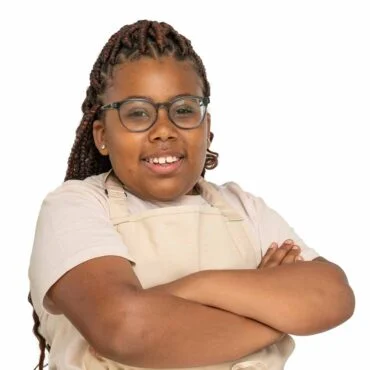 Mia lives in North London. Her love for baking started when she was four, initially learning to bake cupcakes and scones with her nan. Her style is bright and colourful, she likes to think outside the box and challenge herself, particularly when she makes her burger illusion cakes. Baking aside, Mia has lots of energy to burn and loves to tear up the ice-skating rink: she has already reached her Level 8 Badge and is currently learning how to skate on one leg. Mia also has a huge passion for theatre and if she isn't attending acting classes herself, she's taking inspiration from musicals.
Quique, 9
Devon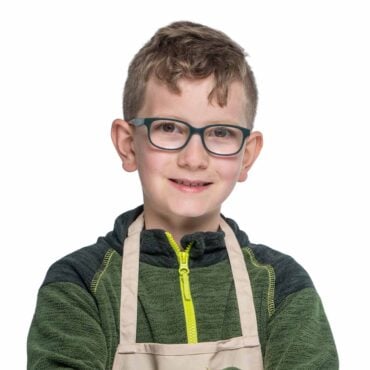 Quique lives in Devon with his brother and sister plus his greyhound, Diego and Cat, Bola. He moved from Madrid with his family when he was six months old and often incorporates his Spanish influence into his cooking. He's been baking for as long as he can remember (or at least since his mum bought him cooking equipment for his third birthday). His speciality is biscuits, but he particularly loves making anything chocolatey, especially his chunky chocolate cookies. Beyond the kitchen, Quique is super energetic and loves karate and kickboxing. The only time you'll catch Quique sitting down is when he's enjoying a board game – he loves inventing his own and playing with his family and friends.
Will, 11
Hertfordshire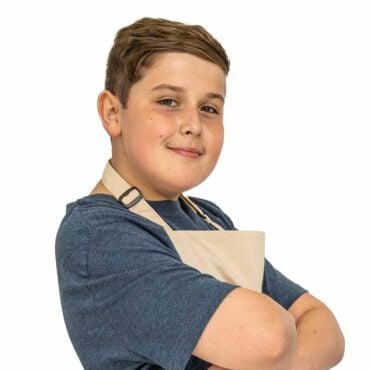 Hertfordshire based Will has been brought up around food. His mum teaches Food Technology, so Will has been finding his way around the kitchen from a very early age. However, it was receiving a copy of his Auntie's brownie recipe during lockdown that inspired Will to pick up the rolling pin and start baking. When he's not breaking eggs, Will is street dancing to hip hop music; a hobby for which he's won numerous awards. Will also loves Art and Design and his ambition is to be an architect when he is older. For now, however, Will is motivated by impressing his toughest baking critic: his younger brother.
Heat Two
Aisya, 12
Manchester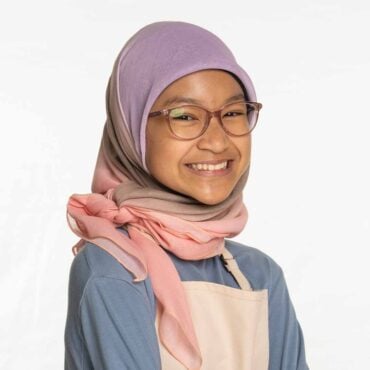 Aisya lives in Manchester and has two younger siblings and a fish called Ninja. Her earliest baking memories are with her mum, who taught her how to make Malaysian curry puffs. Aisya loves to incorporate her heritage into her baking, using flavours and ingredients not seen before in the Junior Bake Off tent. She even picks up tips from her Malaysian grandmother who she video calls often. She chalks her abilities up to her dexterous hands: if she's not perfecting cake decoration you'll catch her playing the piano to Grade 4 level.
D'Vonte, 11
Nottinghamshire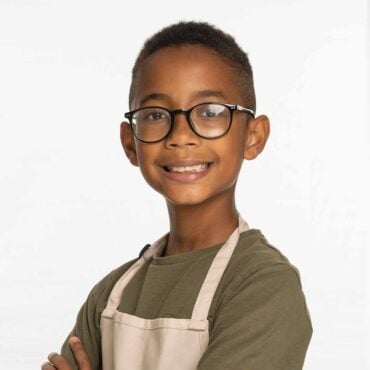 D'Vonte lives in Nottinghamshire and has a younger brother whom he adores. He learned to bake by watching his mum but it was only when his younger brother was born, that he decided it was his now his turn to help out. He is experienced in vegan and dairy-free baking and has a particular love for cake decoration. Following in his family's footsteps, D'Vonte naturally took up playing the piano. Active and energetic you'll often find him climbing trees or zipping around on his hoverboard.
Fraser, 15
York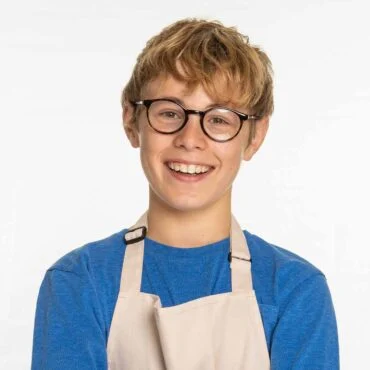 Fraser lives in York and has two younger sisters. He has a strong knowledge of ingredients and a culinary maturity that belies his age. Fraser is a keen gardener, often growing a variety of in season vegetables to use in his recipes. He also loves foraging and finding unique flavours to incorporate into his baking. Fraser enjoys looking after animals, especially his chickens and ducks, whose eggs make his fresh bakes extra delicious. Predominantly a self-taught baker, Fraser prides himself on experimenting with tastes and techniques. If he's not in the garden or baking, he's likely to be playing cricket with the family. In the future, he aspires to own a smallholding and to live completely self-sufficiently.
Gabriel, 10
Cornwall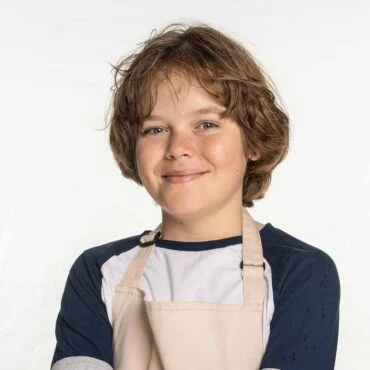 Gabriel lives in Cornwall, he loves being outdoors and living close to the sea. His interest in baking started at the age of three when his grandma began teaching him. He likes to focus on flavour and has imaginative ideas in the kitchen. Gabriel's an entrepreneur in the making, with plenty of business ideas up his sleeve and always on the lookout for new inventions. He is an active member of his local community: singing in a choir, performing in youth theatre and dance groups and participating in a local a Scouts Group. In his spare time Gabriel also enjoys skiing, although admits it's a tricky hobby to keep up if you live in South West England.
Mia C, 15
Newcastle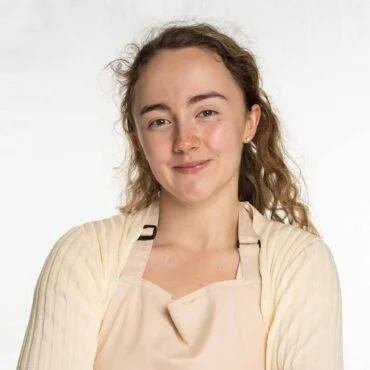 Geordie Mia lives in Newcastle and has a West Highland Terrier named Bert. Mia started baking at the age of four with her grandparents. The kitchen at home is Mia's domain and she likes to keep things super tidy while baking bread, cakes and her famous millionaire's shortbread. Fun and creative in her culinary style, Mia loves how baking brings together her favourite subjects: Maths, Food and Drama. Adventurous and sporty, Mia will take on any challenge from trampolining and long-distance cycling to paragliding and aerial assault courses. She also has a talent for dancing, singing and acting, making her a "triple threat" at her performing arts academy.
Olivia, 9
Nottingham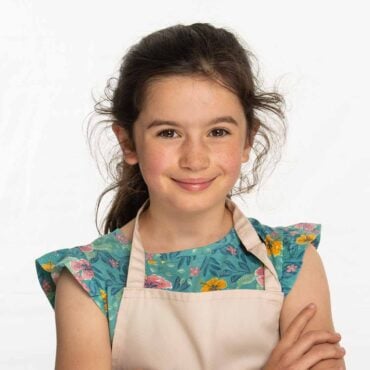 Olivia lives in Nottingham alongside her little sister and Cockapoo, Holly. She's always enjoyed baking but reached a new obsession during the first lockdown. She loves making birthday cakes for friends and family, although her favourite bakes are doughnuts, which she thinks are best eaten warm. All of Olivia's family are sporty and she follows in their footsteps, having played hockey since the age of four then later picking up cricket and netball. She's top of the leader board for table football and prides herself on winning, even when wearing roller-skates.
Salma, 13
Manchester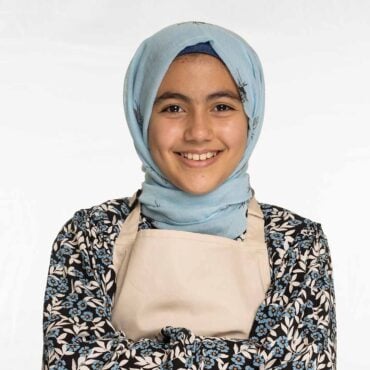 Salma lives in Manchester and has two brothers and a younger sister. Baking runs in her family, with both her mum and grandmother teaching her their skills. With joint Libyan and Maltese heritage, she tries to incorporate as much of her culinary inheritance into her baking as possible by learning recipes passed down through the generations. Salma has three well-trained pet budgies who follow her every command. She also loves skateboarding and roller-skating as well as developing her calligraphy skills.
Tomos, 11
Cardiff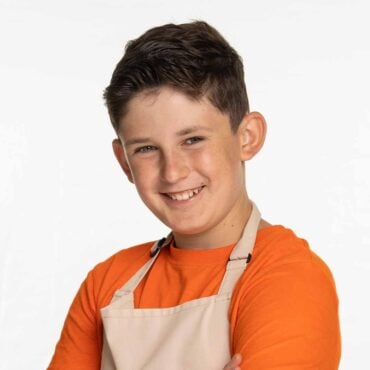 Proud Welsh-speaker Tomos lives in Cardiff. He was inspired to start baking at six years old by his family. He particularly enjoys making cinnamon buns and his strengths lie in cakes and biscuits: just ask his family, who are big fans of his lemon drizzle. Away from the kitchen, Tomos plays the piano and he is really into sports, especially playing football and rugby. He loves cheering on his home nation and aspires to follow in their footsteps in the future.
Junior Bake Off starts Monday 10th January at 5pm, and airs Monday – Fridays at 5pm on Channel 4.