Junior Bake Off is here! Harry Hill, Liam Charles and Ravneet Gill will be joined by 16 of Britain's best junior bakers, ready to show the world that they can bake anything they can imagine.
Heat One
Alfie, 9
East Sussex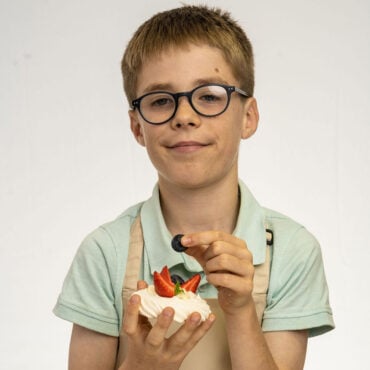 Alfie lives in East Sussex with his twin brother, Charlie, their mum and dad, 2 dogs and 2 tortoises. Alfie started baking alongside his mum when he was three and wanted to get involved; he now bakes independently. His signature bakes are lemon drizzle cakes, blueberry scones and carrot cake. A keen mathematician, Alfie particularly loves calculating and weighing out his ingredients. When he's not baking or playing football, Alfie can be found practising magic tricks or mastering his back-spin in breakdancing,
Annabel A, 11
Antrim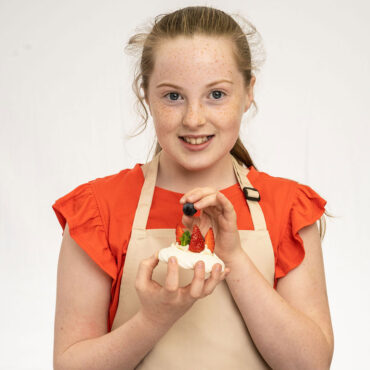 Belfast-based Annabel lives with her mum, dad, younger sister and two bunnies, Bubbles and Binky. Living between the countryside and the city, Annabel enjoys the best of both worlds, soaking up the greenery with the buzz of Belfast a stone's throw away. Inspired to bake by her granny and dad, Annabel is obsessed with her numerous Mary Berry cookbooks and loves nothing more than being experimental with flavours. Annabel best likes cakes that pop with bright and colourful designs, and she often spends time carefully sketching out her ideas before bringing them to life in the kitchen. At the weekends she happily spends hours in her garden where she has a bar and beam to practise her gymnastics. She also loves speed-skating at her local rink. She hopes one day to open her own café.
Charlie, 9
East Sussex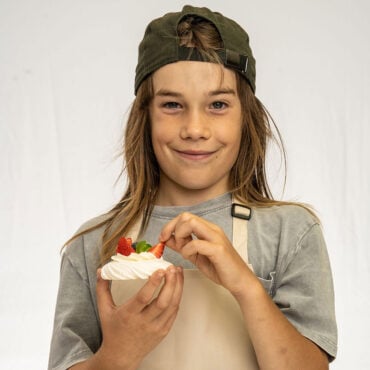 Cheeky Charlie is the twin of Alfie. A keen gardener, he grows his own fruit and veg at their family home in rural East Sussex. Whilst the twins were taught to bake together by their mum, they have since developed their own styles: Charlie describes himself as a 'stylish and cool baker who loves to experiment with spices' whereas Alfie is classic, precise, and sticks to a recipe. When he's not getting creative in the kitchen, he loves track running, playing football and watching his beloved Arsenal. Preferably whilst eating something chocolate he's concocted earlier!
Dolly, 10
Cheshire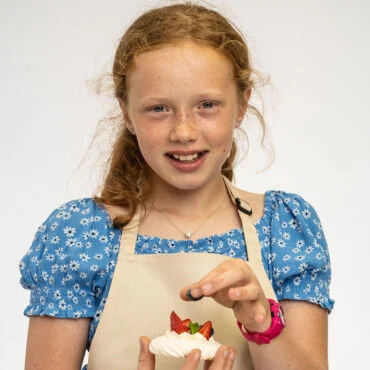 Dolly lives with her mum, dad and two big brothers in Cheshire. She also has two chickens, Maggie and Betty and a Cockapoo dog called Rudy. A self-proclaimed daredevil, she's desperate to sky-dive but has had to settle for the adrenaline of the Tent while she waits to turn 18. Dolly started baking with her mum and nanna from the age of 3. She began to refuse help when she was 6 and has been going it alone ever since. She loves reading cookbooks and taking baking requests from her classmates. She is also very sporty and active, often in competition with her big brothers and refusing to back down, either in swimming, football or basketball. Not a fan of cats, she hopes to one day grow out of this dislike to pursue her dream of becoming a vet.
Ezekiel, 12
West Yorkshire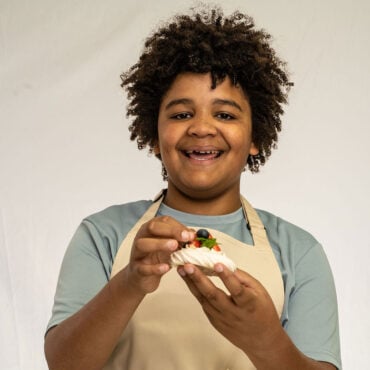 Zeke as he's affectionately known lives in Leeds with his mum and little sister. In his free time, he has a huge range of interests and hobbies and is forever busy! He loves dancing – whether it be ballet, tap or modern – beatboxing, playing rugby, watching F1, gaming and coding. He's even mastered some circus skills! Zeke, who is neurodiverse, was taught to bake at a young age by his grandmother whom, along with his grandfather he is still very close to. He later honed his skills in lessons at school, and not content with that, took part in online tutorials during lockdown. He describes his cooking style as chaotic and unique, though finds the actual process of baking very peaceful.
Imogen, 9
Bath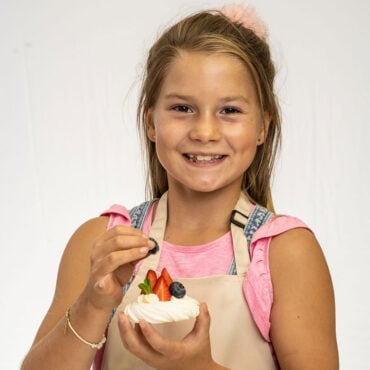 Imogen, or Immy, lives in Bath with her mum and big brother. She loves outdoorsy activities and can often be found surfing, bodyboarding or playing hockey. It is also her dream one day to represent Great Britain in skateboarding, like her idol Sky Brown. A self-taught baker, Immy knows her favourite recipes off by heart. She was inspired to bake by Jamie Oliver, who like her, is dyslexic, and she is a big fan of his skate-boarding son Buddy Oliver! A drummer herself, Immy loves to listen to music and sing and dance when baking and her specialty is coffee and walnut cake: a family favourite.
Oliver, 11
South Yorkshire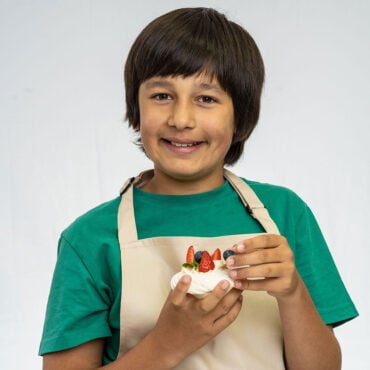 Oliver lives in Sheffield with his mum and dad, and is the oldest of three; he has one little sister and one little brother. Oliver's hobbies include playing the piano, street dance, musical theatre and playing in hockey matches with his local team. Oliver's Bibi (grandma) has taught him to value Indian flavours such as garam masala from a young age, and as such he loves mixing his Indian and English heritage in his baking, the style of which he describes as rustic. Whilst he feels he's not naturally the best at decoration he always tries his hardest and takes great pleasure from the science of baking.
Sofia, 10
Lancashire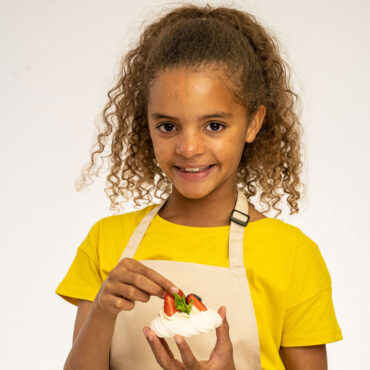 Sofia, her little sisters, mum, dad and bunny rabbit all live in Lancashire. For Sofia the bright lights of the Tent may not seem as daunting as they might, as she's previously performed at the Blackpool Tower in ballet. Asides from ballet dancing, Sofia loves getting muddy on the hockey pitch and writing her own poems, songs and fantasy stories. When she is older, she hopes one day to be an actress and has her sights set on a role in Eastenders. Sofia was taught to bake four years ago by her mum and grandma who often make things for events for friends and family. So, whether it's a Christmas cake or a birthday cake, she's in her element and really enjoys the decorating and design aspect, always striving to create something imaginative, bright and colourful.
Heat Two
Amelia, 12
Staffordshire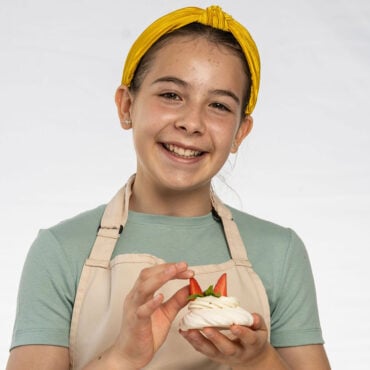 Amelia lives with her parents, older brother and little sister. She also has a pet guinea pig called Cranberry who she describes as beautiful – and lazy. In contrast, Amelia dedicates around 20 hours a week to training as a gymnast, so when she's not backflipping, somersaulting or gracefully twisting through the air, she can be found rustling up 'homely bakes' for her family to share. Despite training in her club's National Development Squad, she has no plans to go pro – favouring the idea of becoming a midwife or opening her own patisserie one day instead. Amelia only started baking 4 years ago, and bread is her favourite thing to make. She loves the science involved, and can't think of anything better than sitting around in her pyjamas eating a piece of home-made loaf, still warm from the oven.
Annabel B, 9
Essex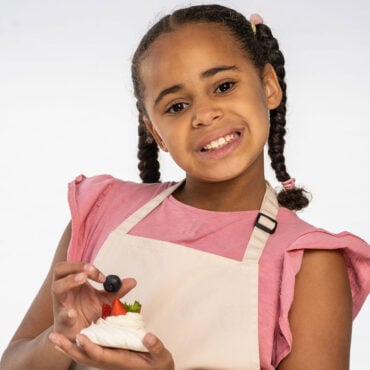 Annabel lives in Essex with her mum, dad, brother and mischievous miniature golden doodle, Jasper. A keen gymnast, she practices the beam, floor, bars and vault, as well as volunteering at her local equestrian school and grooming and riding the horses there. She loves all animals and is an aspiring vet. Annabel has had an interest in baking from the age of 2, collating skills from both her mum and nanny as she's grown up. She now bakes at least 2 or 3 times a week and wants to take more flavour inspiration from her heritage: her grandparents are Nigerian and live in Ghana most of the year. She adores anything sweet and loves a bustling kitchen full of family to chat to while she bakes.
Harrison, 10
East Riding of Yorkshire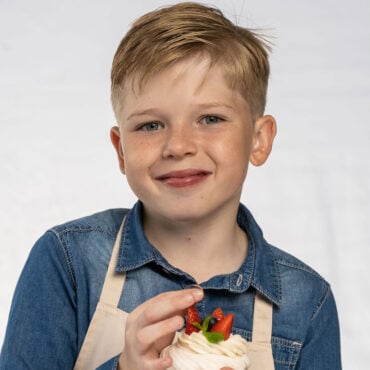 Harrison lives in Yorkshire with his parents, older sister and their two dogs, Charlie and Jet. One day however he hopes to leave Yorkshire for Mars, where he plans to spend time working as an astronaut. When he's not learning about space, he goes to dance classes and particularly loves ballet, where he is the only boy in the class. He also lives for musical theatre and appreciates the means it gives him to express himself freely. Harrison was taught to bake in the last few years by his dad. He now dedicates his free time to flicking through recipe books finding things to recreate, and either give away on special occasions, or all too often, keep to have at home because there's nothing in the cupboards he fancies. He tends to follow recipes up to a point, after which he launches off and puts his own creative twists on them.
Jamie, 10
Warwickshire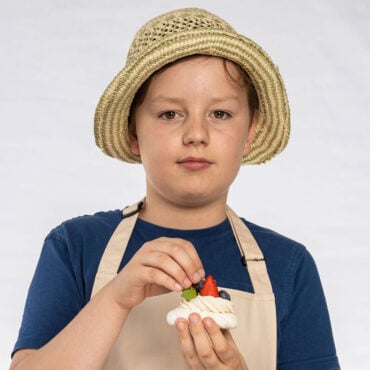 Jamie lives with his mum, sister and little brother in Warwickshire. His Dad lives nearby and the pair go fishing frequently – a hobby that he often finds returns surprises, whether that be hooking boots, cans or occasionally fish! Cub scout Jamie is seriously into nature and his hero is David Attenborough. His favourite animals are foxes, and in tribute to the creatures his bedroom is fox themed. His bedroom is also home to his fantastic collection of hats, of which he has an enormous number. Jamie has been baking most of his life and likens it to a good work-out, both physically with all the whisking and kneading, and mentally with working all the ingredients out and thinking through what needs to happen next. A budding scientist, he loves to experiment with new flavours.
Mya, 10
London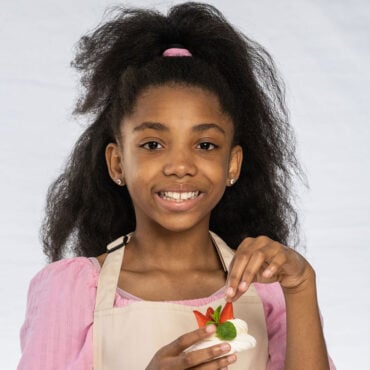 Mya lives with her mum and their two goldfish, Mili and Coby in London. The pair love cooking together and can often be found competing against each other in the kitchen. When Mya isn't challenging her mum in culinary arts, she loves gymnastics and reading. She also has a huge selection of art supplies and frequently puts pen to paper in an enormous sketch-book. She loves to draw Kawaii, a Japanese style of art that translates roughly to 'cute'. As well as being creative, Mya is green-fingered and looks after lots of plants at home which she very much enjoys learning about. Growing up, Mya was inspired to bake by her dad who ran a successful Ghanaian bakery still based in London. During lockdown she spent even more time practising and honing her skills playing with Asian and Caribbean flavours in particular.
Poppy, 11
Tyne and Wear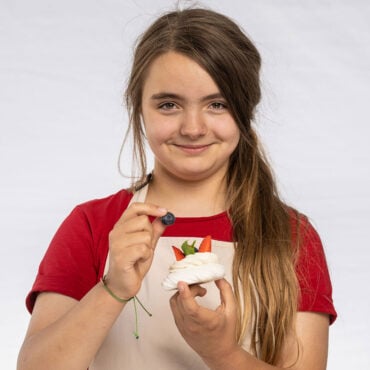 Animal lover Poppy lives in Sunderland with her mum, dad, younger brother and their 6 pets. The family have two cats, two hamsters and two fish. It's not clear how they all get on. Poppy is an avid reader and writer – often crafting her own stories designed to terrify her brother. But she doesn't stop there, and illustrates them too, her specialism being drawing cats, and self-portraits. When considering owning a bookshop in later life, she muses that the biggest draw would be to see if people buy the books she would assume they'd choose on her first impressions of them. Failing that career-path, she'd like to be a vet specialising in exotic animals. No domestic cats for her, she wants to save penguins and nurture giraffes. Poppy was inspired to bake by her mum and grandma at the age of 4. Now the tables have turned and they enjoy her sweet treats. Choux pastry is her favourite thing to make – she loves the process and watching an originally uninspiring batter transform into something magical in the oven.
Thomas, 12
London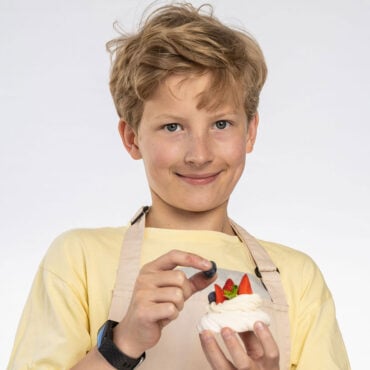 Thomas lives in London with his mum, dad and younger sister. He is very active and when he's not baking, he's fencing, playing tennis or running. When he's not doing any of those things, he plays the clarinet and enjoys board games or escape rooms. Thomas has baked and helped in the kitchen from a young age, with his parents teaching him the basics. He loves to understand how recipes work and is a keen reader of cookery books and magazines. His favourite thing to make is bread – his cinnamon swirls are his signature and are a particular hit with his mum. He has also recently started growing some of his own ingredients in the garden which he uses in his bakes. A budding scientist or engineer, Thomas most enjoys designing unusual structures and squeezing as many elements as possible into his creations.
Tristan, 10
Essex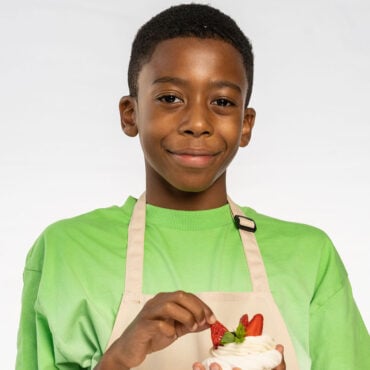 Tristan lives in Essex with his mum and Nana, whose family came from Jamaica in the 1950s. In his spare time, Tristan loves to perform: singing, dancing and acting all take centre stage in his life. He has played the piano since the age of 3 and is working towards his Grade 3 exams. He also has an arty side and loves to paint, draw and engineer complicated structures from Lego. Tristan has baked from a young age. He comes from a family of bakers and his mum and Nana taught him everything he knows. His Nana has always been keen to nurture a love of Caribbean and Jamaican flavours in him, and this often shines through in what he makes. Decoration is very important to him – particularly when he can play with colour – and he enjoys this bit as much as the baking itself.
Junior Bake Off starts Monday 16th January at 5pm, and airs Monday – Fridays at 5pm on Channel 4.