Junior Bake Off is here! Harry Hill, Prue Leith and Liam Charles will be joined by 20 of Britain's best junior bakers, ready to show the world that they can bake anything they can imagine.
Heat One
Aleena, 15
Greater Manchester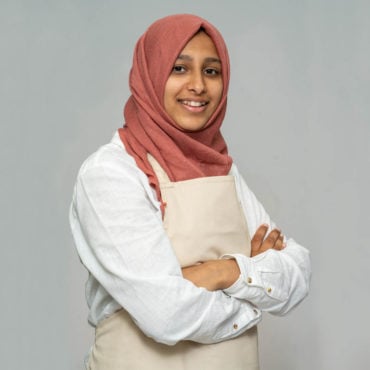 Aleena lives in Greater Manchester with her mum, dad, two brothers and her sister. Her family have been her chief taste testers since she taught herself baking by watching YouTube videos at 9 years old. Aleena likes to push herself with challenging techniques such as puff pastry and enriched dough. She thinks she's proven her commitment to her hobby after spending three days perfecting croissants. Her fun and trendy baking often has a professional finish and brings together her English and Pakistani heritage. Sports mad Aleena is an avid Manchester United fan and plays football and basketball with her siblings.
Amal, 13
Essex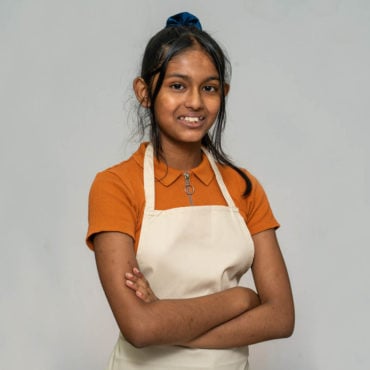 Self-taught baker Amal lives with her mum and dad in Essex. The only baker in her family, she was inspired to take up the hobby after falling in love with baking shows seven years ago. Amal's passion for decoration comes into its own when making tall layer cakes for friends and family. She recently showed off her skills in piping when she made a two-tiered buttercream flower cake for her cousin's 16th birthday. Amal likes to follow baking trends, experimenting with presentation while keeping flavours traditional. With aspirations to become Prime Minister, baking isn't Amal's only hobby. She also plays piano, studies drama and is sporty with a love of athletics and gymnastics.
Bakr, 15
Derby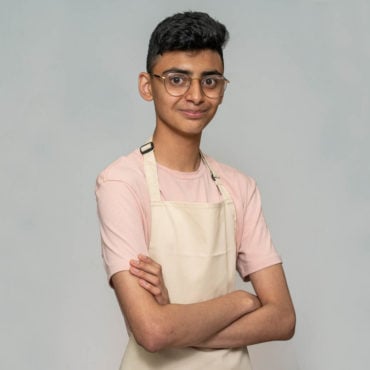 Bakr lives with his mum and dad, along with his older brother and two sisters in Derby. After picking up a box of cake mix thinking it had a cake inside seven years ago, Bakr was inspired to start baking. His design-led and innovative style has now seen him craft a three-tiered wedding cake for his Auntie's big day. Taking inspiration from his Pakistani heritage, Bakr regularly incorporates Asian flavours such as cardamom and mint into his bakes. His eye for detail helps Bakr with his other hobbies which include photography and design.
George, 11
Devon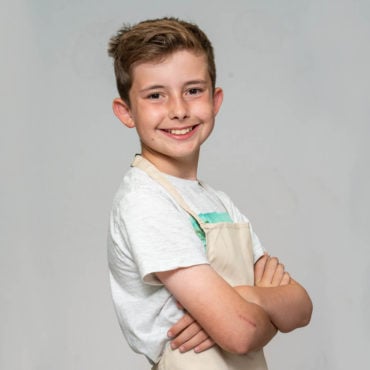 George began baking at a young age with his mum and nan. Now confident on his own in the kitchen, George holds family baking competitions with his brother Alfie where he often shows off his adventurous cake decorating skills. His most impressive bake to date is a chocolate mirror glaze cake. Cake isn't George's only area of expertise as he has mastered the art of puff pastry, something he thinks should be one of your five a day. A born entertainer, not only does George like playing football and beatboxing, he recently played the title role in Oliver to a sell-out audience of 400. George lives in Devon with his mum, dad, younger brother and dog.
Maddie, 11
London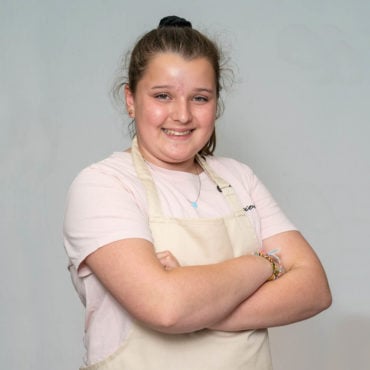 Maddie has been baking since she was just two years old, taught by her mum, grandmother and aunt. Inspired by her Jewish and French heritage, Maddie makes a weekly challah bread and is known for her signature French Madeleines. Experimental Maddie likes to impress with flavours and decoration. She recently made a red velvet illusion cake for her dad's birthday and 50 James Bond themed cupcakes for some family friends. Maddie is captain of her netball team and plays as goal shooter. She also loves football and is an avid Arsenal fan. Maddie lives with her mum, dad, brother and sister in London.
Oliver, 10
Northamptonshire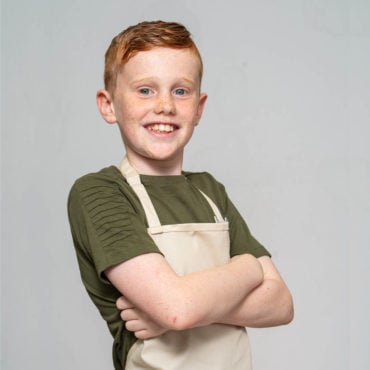 Oliver lives with his mum, dad and two brothers in Northamptonshire. Introduced to baking at just 6 years old by his nan, Oliver now has aspirations to follow in her footsteps and work in a bakery. Oliver describes his style as "unique", though he favours classic flavours such as chocolate and orange. With a good grasp of cakes, bread and meringue, Oliver likes to mix up recipes and make them his own. Oliver's other passion is Harry Potter which he re-watches while his bakes are in the oven.
Tilly, 9
Bath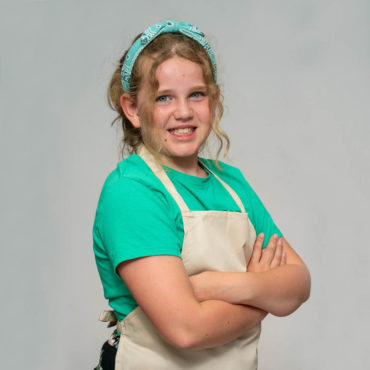 Tilly's earliest memory is baking with her granny, having learnt with her at the tender age of just two years old. Her granny's influence is still felt, as Tilly's signature lemon drizzle cake is based on the recipe passed down to her. Tilly's strengths lie in cakes, biscuits, decoration and presentation. She once spent three and a half hours decorating a celebration cake to look like a unicorn. When not in the kitchen, Tilly likes gardening and walking her dog. She is also musical as she not only sings, but also plays the piano and the oboe. Tilly lives with her mum, dad and two brothers.
Vaughan, 13
County Durham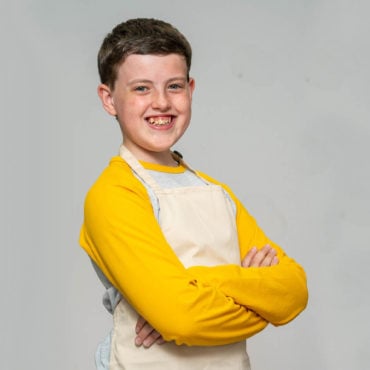 Vaughan only began baking two years ago, but inspired by YouTube videos he has already conquered millionaire's shortbread cupcakes, lava cakes and meringue. His experimental and bold style sees Vaughan taking on bakes that challenge him and that expand his techniques.  Vaughan lives with his mum and dad. His hobbies include singing, acting, trampolining and he even has a small collection of retro computers.
Zak, 13
Hertfordshire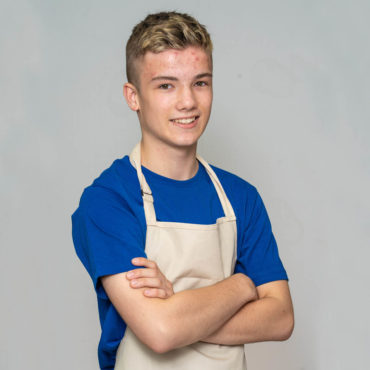 Zak lives in Hertfordshire with his mum, dad and two brothers, and regularly bakes for his number one fan, his nan. With five years of baking experience, Zak now has a focus on presentation and a neat professional finish. He thinks his cakes, biscuits and profiteroles have the potential to be sold in a coffee shop. Drama, trampolining and segwaying are just some of Zak's other hobbies.
Zoë, 10
Nottinghamshire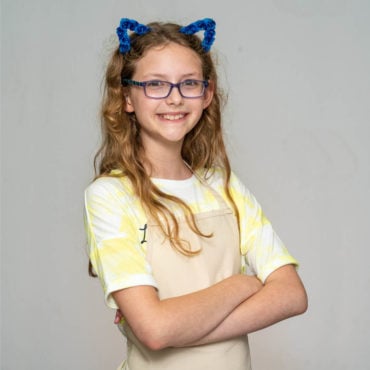 Zoë was born in Texas, USA. She was taught to bake at just 3 years old by her grandmother. However, it wasn't until Zoë's family moved to the UK when she was 5 years old that she began to take baking more seriously. Cakes and biscuits are Zoë's speciality as they allow her to show off her quirky decorative style, such as her lemon and raspberry chequerboard cake. Zoë also enjoys trampolining, swimming and basketball, but cats are her main passion. Not content with her own cat 'Spunky', Zoë isn't ever seen without a pair of her trademark cat ears. She lives with her mum, dad and younger brother.
You'll meet the Heat Two bakers the following week, on Monday 11th November at 5pm on Channel 4.
Heat Two
Dru, 15
London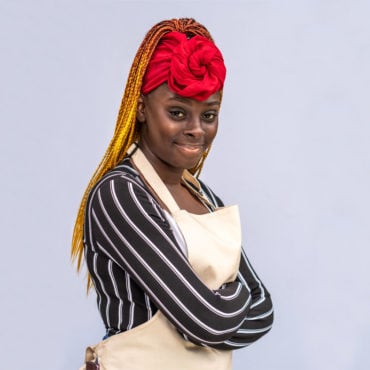 Dru first started baking at seven years old after spending time at home to recover from an operation. Completely self-taught, she now specialises in eye-catching cakes and brownies, with intricate decoration that she shows off when sharing her bakes with her fellow Girl Guides. Inspired by her Caribbean heritage, Dru likes to incorporate coconut, vanilla and spices into her baking. Dru lives with her mum, dad, brother, sister and cousin in London.
Eliza, 14
North Yorkshire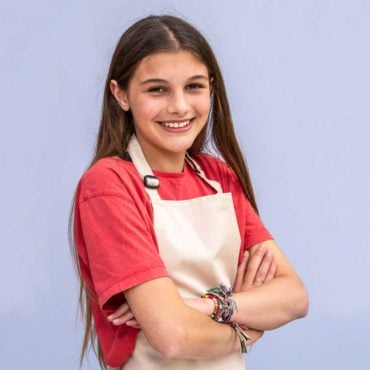 Eliza was introduced to baking at four years old by her gran who was famous for her strawberry and cream sponges. Her adventurous and meticulous style has seen her create drip cakes, gingerbread houses and a cake that featured her dad reclining on a sofa. Eliza regularly creates her own flavour combinations and recipes. She is keen to combine a love of animals with a love of science by becoming a vet. She currently has a cat, two degu, nine fish and two snails. She lives with her mum, dad and younger sister in North Yorkshire.
Fin, 13
Manchester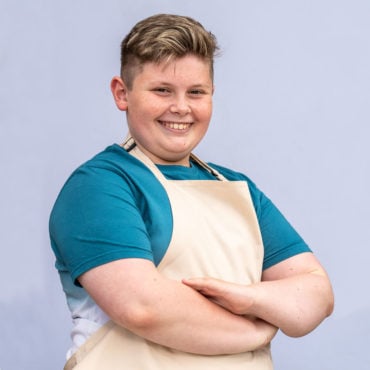 Fin has been baking for less than a year, but after teaching himself with YouTube videos and books, it now fills most of his time. Fin's eye for detail sees him creating cakes and pastries that are decorated with a professional finish, such as his ombre chocolate cake with meringue buttercream and chocolate collar. He lives in Manchester with his mum, dad, older sister and three dogs.
Jaya, 10
Solihull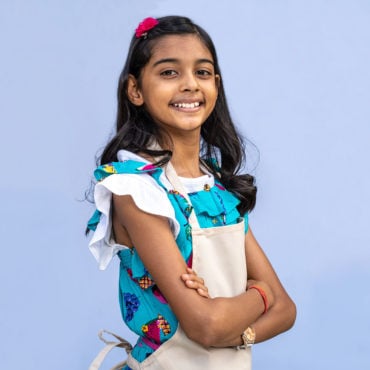 Jaya lives with her family in Solihull. She began baking cupcakes with her gran at six years old. Jaya likes to use her Indian heritage by incorporating spices into her bakes and making Indian flatbreads, but her signature bake is a chocolate cookie dough cake. Jaya is part of a Bollywood dance troop and competes as part of her school swimming team.
Karina, 13
West Yorkshire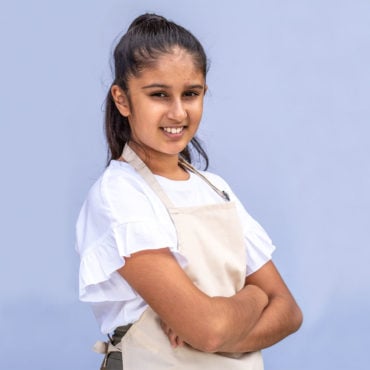 Karina began baking at ten years old in school but developed her 'wacky' style at home with her mum. With a love of biscuits, cakes and ganache drips, Karina's signature bake is her grandad's favourite shortbread. She also likes to draw on her knowledge of Indian flavours when making chapattis with her grandma. A black belt in Taekwondo, Karina also plays tennis, cricket, rounders and can do more than five backflips in a row.
Kian, 13
Hull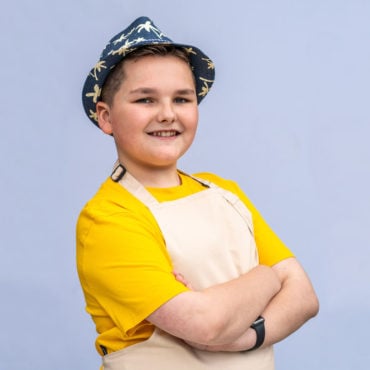 Kian lives with his mum, dad and younger brother in Hull. Taught by his grandma, Kian started baking at 11 years old. He likes to give his celebration cakes the 'wow-factor' with intricate fondant work, and recently made his aunt's wedding cake. Kian's love for art helps him to design his bakes and he aspires to combine these skills with his love of drama by becoming a set and prop designer.
Lorien, 9
London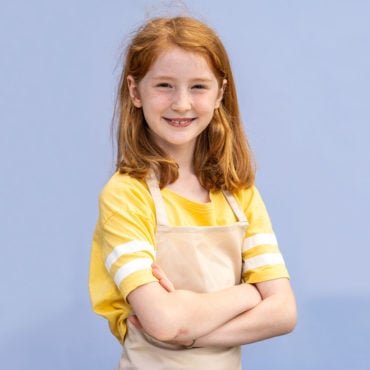 Lorien learnt to bake with her mum and gran six years ago, and now bakes three times a week on her own. She uses advanced flavours such as pistachio and rose in her cakes, but her fun and playful style comes out when creating marshmallow snowmen at Christmas and edible eyeballs at Halloween. Lorien's love of art also extends to her other hobbies which include painting, drawing, sculpture and pottery. She also trains in contemporary dance and has achieved grade four in ballet. Lorien lives with her mum, dad and older brother in London.
Sam, 9
Berkshire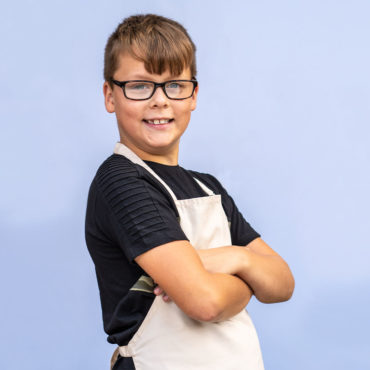 Triplet Sam has been helping his mum in the kitchen since he was young and now strives to bake as much as he possibly can. Sam has a passion for making bread, especially his signature plaited loaf inspired by his Polish heritage. Sam regularly makes special bakes including meringue kisses for his sister who has quadriplegic cerebral palsy. Sport lover Sam plays cricket, tennis, football and rugby, and is part of his school chess team. Sam lives with his mum, brother, sister and hamster, Samantha.
Tom O, 15
Gloucestershire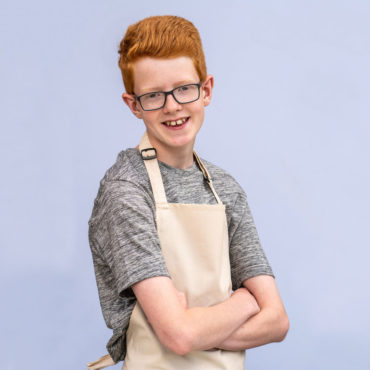 Tom's colourful and flamboyant style is inspired by his mum and grandma who taught him to bake at eight years old. His strengths lie with intricate techniques that have seen him making macarons, palmiers and beignets. Tom's most impressive bake to date is a grand piano cake complete with fondant piano keys. Tom regularly plays in a local folk band who have raised over £8,000 for children's charities. He also plays trumpet in a swing band, practices Taekwondo and is learning to unicycle. Tom lives with his mum, dad and two sisters in Gloucestershire.
Tom W, 13
Falmouth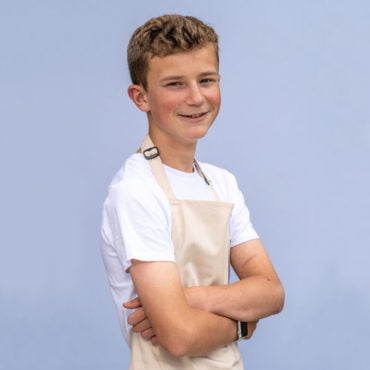 Tom began baking at eight years old when taught by his mum. After learning to make bread with his nan and becoming fascinated by the science of bread, tiger rolls are now Tom's signature bake. Tom describes himself as a mad scientist in the kitchen but can present decorative bakes such as his triple layer chocolate cake when needed. Tom lives with his mum, dad, brother and sister in Falmouth. He plays football, badminton, cricket and loves paddle boarding.
Junior Bake Off starts Monday 4th November at 5pm, and airs Monday – Fridays at 5pm on Channel 4.