The origins of Paul The Bake Off Bear…
It's not often that you have an edible bear named after you, so it came as no surprise to see how honoured Paul Hollywood felt at Howard naming his creation in his honour.
Bake Off viewers also lapped up the carnivorous confection, with almost 5,000 'Likes' on the show's Facebook fan page for an image of the chocolate mammal. "Please tell me the bear didn't get eaten," commented Amy Mitchell.
"By the expression on its face it looks like something terrible has just happened to Howard's bear  #gbbo #hauntedBear," joked @MrITDean on Twitter.
Proudly perched upon the Howard's 'Black Forest Revisited' Showstopper, Paul The Bake Off Bear was originally conceived as a drawing by the baker, which can be seen below: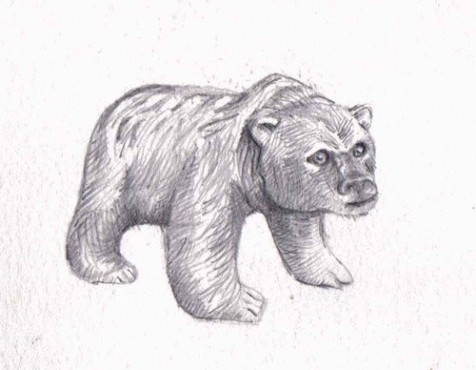 In Howard's own words: "In terms of translating the drawing to a bear, I rolled out white modelling chocolate, basically cut out a bear rug shape and then moulded it from there.  I added texture with a sharp knife and then dusted it with edible dusting powder to make it a silver grey bear."
For Howard, his bakes are about so much more than those bear necessities…