I have been interested in baking for the past 20 years and I have watched all of the series of The Great British Bake Off. I kept thinking I could do that, but it wasn't until watching Richard being the bloke baker that I thought I should apply. I convinced myself that I wouldn't have the skills but then I got the call and it all went from there.
As soon as you walk into the tent you get prickles on the back of your neck, and for me it was a very different environment from my prison surroundings.  In contrast being in the tent with its light and airy atmosphere, almost felt like being at a party.
My best moment has to be Bread Week and making the Lion bread. When that happened I felt quite fired up because it was far better than I had tried at home.  I took it up to the judges and Paul gave me a strange look, so I knew I had done well.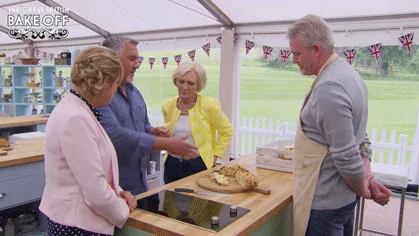 He shook my hand on the signature challenge which was the soda breads and then on the Showstopper I got a commendation for the Lion bread and a round of applause from them all.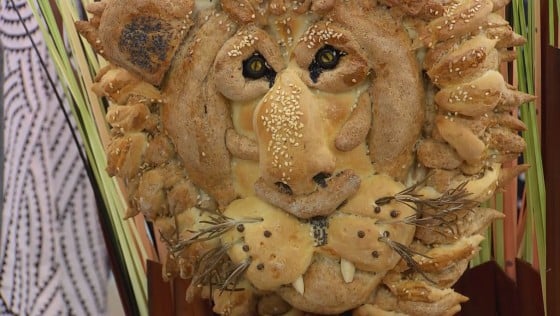 My worst moment had to be the vol au vents – it was a nightmare from start to finish – there were flour and eggs everywhere. Mel came across as I was cutting out the pastry shapes and she wanted to play noughts and crosses in the dough. But I had a sense of humour failure as the time pressure was getting to me, and I still can't believe that I dissed Mel!
Memorable moments that will stay with me are when Paul liked my biscotti. Twitter went crazy with everyone comparing me to Paul Hollywood.  They called us Paul A [that was me] and Paul B. On week one Paul got more favourable comments but on bread week, they replaced my face with the Lion Face and I got treated more favourably, so that was quite funny.
I have been in the prison service for 25 years, and a prison governor for 6. I went into work the day after the show and the prisoners were absolutely fantastic, all giving positive comments on how much they enjoyed the show.   I have taken in bakes when I was practising for my co-workers, and that goes down well at tea time.
I am quite blokeish and people find it unusual that I have tackled things like sugar craft.  I have been in the army and don't feel I have to prove myself in any way.  My idea of relaxing and to enjoy myself is to create sugar roses, lilies, tropical flowers or anything that takes my fancy. It's very intricate and delicate work with great attention to detail and can take up to 18 – 20 hours to create something beautiful and realistic. You need great patience, and to be calm and measured, not too dissimilar to what I do at work where I also need a huge understanding.