My best moment was the camaraderie around the bakers and the whole production team, I can't find the words to explain how good that was and it has continued afterwards…
I met personalities in the tent that were genuinely interested to get to know me and vice versa. The cameras didn't really faze me – I ended up loving them – I want more cameras in my life! I didn't find them intrusive but I wish they were kinder to my laughter lines! I don't take myself too seriously, and yet I have a very serious side to me too, I have a fundamental sense of fun, and like to have a good giggle. As the work I do is very serious, you have to get that perspective into a lighter side, and that's what Bake Off has taught me.
My worst moment was leaving and my crème brulee not setting was gobsmackingly shocking. There was no one more surprised than me when Paul cracked it and it wasn't set. It's never happened before, and I should have trusted my gut instinct and raised the oven temperature.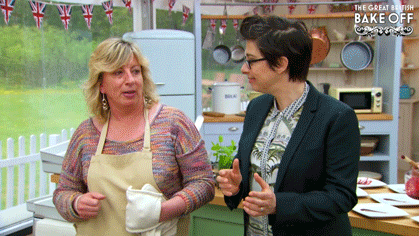 It depends which way the wind is blowing on what I will bake, and I am known for throwing a good old dinner party as I love entertaining and feeding people, it's how I express that I care. Sometimes I can't think of what to say, so I wrap food round people, it's like giving a bit of yourself.
I would like to teach cooking as a craft in school rather than it being a qualification. The kids I work with will do one evening class a week in the winter. We have about 10 – 12 kids in the class and we could be making an apple crumble, which could then lead onto making tuna in a white onion sauce as a savoury crumble.  It teaches them to experiment and try out the flavours. You teach them the basic skills and then they get to experiment and try other things, it's very rewarding.
Mary has always influenced my cooking, and her tray bakes always come out right, she is the queen of cooking, and her books are a kitchen staple. When Mary said my biscuit Showstopper was breathtaking, I won't ever forget that wonderful feeling, it will be one of my all time highs.  I made up my biscuit cutters and I had two technology teachers to help me make them out of Perspex and put my name on. I have kept them and they will always be a wonderful Bake Off memory as they helped to get Bradford on the map!
What has been wonderful about Bake Off – is that it throws you together with people you wouldn't expect to gel with. I get on with them all but with Nadiya there is such a close friendship, we have the same sense of humour, and we don't live that far apart. I had such a giggle with Mel & Sue and found them genuinely warm and we also talked on quite profound levels. They pick up your wobbles and give real support – they have that light humour and depth when you need it.
It was a tremendous life changing experience, things don't get much better than good coffee and exquisite cake, and I think Bake Off epitomises that simple but heartfelt pleasure. Although next week I will be watching it with a large G & T.