There was tension, there were tiers, and there was a tough call for Paul and Prue to make – who should be crowned Britain's best amateur baker of 2017? All three finalists had proved themselves to be fantastic bakers over 10 weeks worth of challenges in the tent, but only one baker could scoop the prize. Steven achieved perfection on his batch of sweet Winston Knot loaves, and even managed to nab the top stop in the technical, but an intricate and ambitious showstopper saw his stress levels soar through the roof.
We caught up with Steven to congratulate him on baking it to the final and see what's next for the 2017 finalist.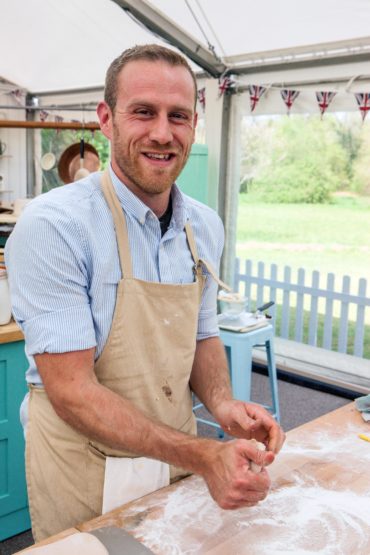 How did you feel being one of the final three?
"By the very end I was exhausted, so I think nerves didn't matter to me anymore. I remember looking around at the almost empty tent and suddenly felt very sad, but also felt a great sense of pride."
When you first walked into the tent, did you think you'd make it to the final?
"I was too frightened to think beyond the week I was in. I didn't want to get my hopes up week after week because I didn't know how I would take disappointment! When I got to the final, the reality hit and I didn't know what to think. I am still amazed I made it, but also incredibly proud."
Let's talk about your 'pies' and 'doughs', starting with your favourite bake…
"I loved the sfogliatelle in Italian Week. I'm a creative baker and enjoy trying to make something look visually impressive as well as good-tasting. With the sfogliatelle, I couldn't make it look like something other than what it was, so I was able to channel all of my effort into recreating the traditional methods. Sometimes I like to challenge the norm, but in this case I loved learning an age-old method that produced something authentic."
… and what about any dough moments?
"The Stroopwafels in Caramel Week… say no more! #GrainyCaramel." 
Which of the judges were you most keen to impress?
"I wanted to impress them both equally for different reasons. I wanted to impress Paul because he knows Bake Off and he knows what it would take for someone to succeed on the show. Prue has been in this game for longer than most of us have been alive and there is no pulling the wool over her eyes!"
What role did Sandi and Noel play for the bakers in the tent?
"There were times in the tent when I wanted to give up and it was those two that were by my side willing me to fight and carry on. They are more than just presenters; they are a part of the Bake Off family!"
If you were a cake… what would you be?
"I would be a Christmas cake, because I love the camp festivities of Christmas. I'm partial to being laced with rum, I am a bit nutty and crammed with fruit."
What's next for you?
"I don't think my life will ever be normal again and that is both terrifying and amazing at the same time. Change used to scare me, but this time I'm going to try to enjoy it! I have dreams that I want to work towards – let's see what happens next!"
Given the option, would you go back to the tent and do it all over again?
"I miss it terribly! Despite the stress and nerves, I enjoyed every moment in that tent and wish I could go back. Without a doubt I would walk back into that tent tomorrow and start over."
Congratulations on making it to the final, Steven. Keep on baking!