It all started with 12 hopeful amateur bakers and played out with two judges giving their verdict on 30 challenges over 10 weeks in a big, white tent in the British countryside. But there could only be one winner, and tonight it was announced that Britain's best amateur baker of 2017 was Sophie Faldo.
From illusion cakes to fortune cookies, the bakers dropped clangers, attempted to become fluent in Italian classics and rose to the challenge baking bread as they battled it out week after week. Sophie joined Kate and Steven, her fellow finalists, in a heart-stoppingly tense final episode where they baked multiple batches of miniature loaves, speed-iced ginger biscuits in a tricky technical and turned heads with their entremet showstoppers. It's fair to say that life will never quite be the same for Sophie now that she's a Bake Off champion.
Here's what she had to say about the whole shebang.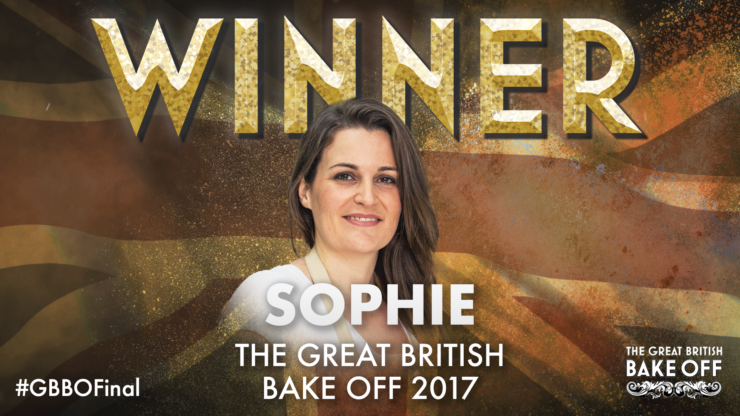 How did it feel when Sandi announced that you were this year's winner?
"It was very surreal. I hadn't allowed myself to think that I could win up to that moment in time, but when they said my name the enormity of it hit me. It was a real ambition of mine to get to the final five so I was over the moon to surpass that. I rarely got nervous in the tent, but on the second day of the final, I felt it was a neck-and-neck race. I knew everything was riding on my Showstopper, so I knew how important it was that I got it right."
What was it like walking into the tent for the very last time?
"It was a very different feeling walking in for the final. I don't think I was as nervous, because by then we were used to how it all happened and what we needed to get done, but there was so much more riding on the last week and I certainly felt that."
Which of the judges did you most want to impress?
"I think there is an assumption that everyone wants to impress Paul because he has historically been the harshest judge on the show, but Prue has a very impressive background and has judged food from some of the world's best chefs so she knows her stuff. After all, they have equal say in who goes home, so we wanted to impress them both."
Let's talk about your 'pies' and 'doughs', starting with your favourite moment…
"My best moment was getting a Hollywood Handshake for my Fruity Cake signature bake in week one. That was my first ever challenge."
… and what about any dough moments?
"When my Millionaire Shortbread wouldn't set in week four. Also in Forgotten Bakes week I felt I could be going home because I didn't get as good a judging for my Signature and Technical. It was my Savoy Cake Showstopper bake that saved me."
Some of the bakers really wear their hearts on their sleeve, but you don't give much away. What was driving you through each week?
"I do keep my emotions under control, so there wasn't really a point in the tent that I would burst into tears. It wasn't going to happen at the end of the final either, because if anything it was a relief. If I hadn't won it I would have been so annoyed at myself that I didn't get it right. I tend in baking to strive for perfection, with a kind of military precision and I want it to all work out perfectly. I like my bakes to look beautiful."
Which bake were you most proud of?
"The technical in Patisserie week – the Les Miserable. I actually enjoyed it, which is unusual for a technical and to get a such good judging on it was something I am really proud of. The judges said it was one of the most difficult technicals ever set in Bake Off."
Was it difficult keeping it a secret from your friends and family that you were filming Bake Off every weekend?
"It was tricky because people kept asking why I was doing so much baking. I sidestepped it by saying I was hoping to get into a pastry school some day, as that was a dream of mine."
Does everyone want you to bake for them now?
"I'm booked up with weddings for a few years! I actually don't like to make the same thing twice, so if someone asks for something I've already done then I get them to change their mind. I like to use the opportunity to try new things. When the show finished filming, I had a little break from baking but I am back into it now. I bake sourdough bread all the time, I have quite an addiction!"
If you were a cake… what would you be?
"What I'm like as a person and what I like to bake are two very different things. I would love to say something beautiful and elegant decorated with chocolate work, but if I were a cake, it would likely be something really easy to bake, rustic-looking and really bad for you like brownies with big chocolate chips."
Given the option, would you go back to the tent and do it all over again?
"Ha, ha! If I had to, but the charm of it is the ignorance and not knowing what to expect. It would be a very different beast going back with the knowledge I have now. I miss the people and knowing we were part of something really special, but I don't miss the pressure."
What's next for you as a baker?
"I don't know really, but I do know that I am so looking forward to seeing what is going to happen. I never, ever dreamed I would get to the final of Bake Off, let alone win it, so I am not sure where I'll go from here. Bake Off has broadened my baking expertise and inspired me to go further than just decorating cakes, but my biggest love has to be patisserie. It would be wonderful to write a patisserie book, but let's see what comes my way. I would like to try travelling the world for inspiration for starters!"
Sophie – congratulations. You're officially 2017's ultimate Star Baker.