Over the course of Series Nine, Kim-Joy became known for her beautifully decorated, curious and creative bakes, many of which would look just as at home in an art gallery as they would a bakery. Though she's turned out consistently pretty pastries and beautiful breads, more than one wobble in the Technical Challenges proved to be her downfall, and though Rahul beat her to the winning spot, we're here to celebrate Kim-Joy's many wins throughout the series.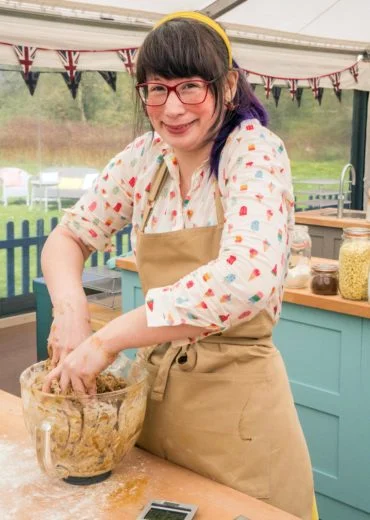 "Going into the final was the most relaxed I'd felt out of all the weeks in the tent, because I felt like we were all winners. I felt so happy that I had got that far with two other brilliant bakers, so there was no fear of being the one who was sent home, as we were all going home after that week.
"It felt really nice that all of the finalists were all named Star Baker twice. Getting Star Baker was very motivating for me, it gave me an extra boost of energy when practicing my recipes at home. It was a particularly bittersweet moment getting Star Baker in Week Five as two bakers went home that week, the lovely Karen and Terry. I'm a fairly quiet person but I bonded with Karen and Terry, so I really felt a change when they left.
"I remember hoping to make it to Week Four at least. And when I got there, my new aim was Week Six. When it got to Week Seven and I won Star Baker, little glimmers of hope that I would be in the final started emerging. But I'd try to squash them back, because I didn't feel I could deal with the disappointment of not getting there.
"I loved so many of the challenges, but my least favourite challenges were ALL of the Technicals, which I dreaded each week, because I didn't have a pre-practiced plan broken down into specific time segments and so therefore I rushed everything and made silly mistakes! I always felt I had to do really well in the signature and showstopper because I had zero confidence in my ability to do well in the Technicals.
"The best thing about being on Bake Off is that my confidence has grown massively. I used to be extremely socially anxious and have worked on that my whole life, trying to prove to myself that I can talk to people and do 'normal' things. I have gone from whispering in public, to gradually breaking out of my shell at university, to working in mental health and helping others, and to now having been on TV! The last thing I have to conquer is giving a presentation with lots of people looking at me. Believe it or not, that is more terrifying to me than being on TV!"
Kim-Joy and the other 11 Series Nine bakers will join Jo Brand on The Great British Bake Off: An Extra Slice on Friday 2nd November at 8pm on Channel 4.